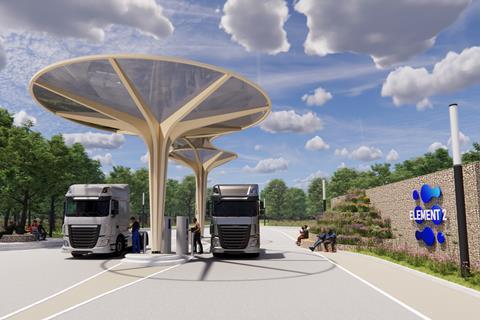 Hydrogen infrastructure company Element 2 has today unveiled a partnership with fuel card provider Radius and its UK Fuels network.
The collaboration will enable more than 100,000 commercial fleet customers to access a supply of fuel cell grade hydrogen across the UK in the future and make payments with their existing UK Fuels cards.
Element 2 and Radius will work together to develop a network of hydrogen refuelling solutions across the existing Radius UK Fuels network. Element 2 will offer a combination of mobile and permanent hydrogen refuelling solutions.
Andrew Hagan, chief development officer at Element 2, said: "This new relationship with Radius and the UK Fuels network will unlock existing fuel sites and will be a catalyst for Element 2 to build the UK's hydrogen network faster.
"We target local fuel-cell-grade green hydrogen made from wind, waste, biomass and water treatment sources and supply all hydrogen vehicle types – trucks, vans, buses, refuse vehicles and cars.
"Hydrogen will play a major role in mitigating electricity grid constraints and complement the charging infrastructure in the UK. By adding hydrogen refuelling onto existing service areas, Element 2 and Radius will deliver a one-stop-shop for all road users as we transition to net-zero."
Jonathan Haseler, managing director (UK, Ireland & SEA), Radius, added: "We know our customers are reviewing their fleets in order to meet green transport targets and we need to support this transition to decarbonise our roads.
"The simplicity of service for drivers and fleets offered through our expansive network means greater convenience for businesses. Adding hydrogen to our UK Fuels network supports our ongoing strategy to enable fleet customers to operate as normal whilst transitioning to carbon-friendly solutions."