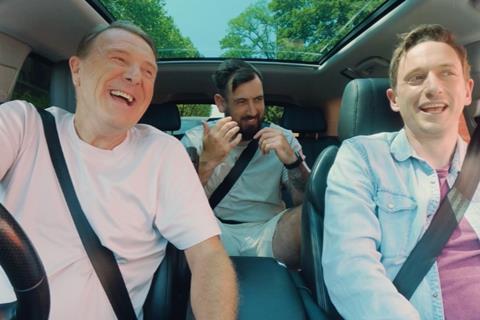 Esso has teamed up with Liftshare to encourage more people to share car journeys on their way to sporting spectacles, music events and festivals this summer, as well as in the longer term.
The collaboration is part of the fuel brand's wider Thoughtful Driving campaign, which aims to help people reduce car usage and emissions from driving.
New research, commissioned by Esso, shows that despite 65% of drivers surveyed never having tried a lift sharing service before, nearly half (46%) are ready to give it a go.
This is the summer the nation could be ready to get behind this more sustainable method of transport because:
- more than two in five (42%) drivers surveyed say they would lift share to travel to a different city;
- more than two in five (42%) would try lift sharing to get to a festival or public event; and
- just as many (42%) would share lifts to a sporting event, with football being the most popular sport to carpool for (62%).
Just under two thirds (65%) of respondents claim to use their car to get to sporting events so there is significant potential for reducing fuel costs, congestion and vehicle emissions.
The research showed the top five reasons respondents would lift share are:
1. Cutting travel costs (43%);
2. Convenience (32%);
3. Reducing traffic on the roads (30%);
4. Reducing car emissions (25%);
5. Meeting like-minded people (19%).
To encourage people to share a journey, Esso and Liftshare, the largest car sharing service in the UK, teamed up with cricket legend, Phil Tufnell and comedy genius John Robins as they travelled to a match together. The duo also picked up an unsuspecting Liftshare member, going to the same match, who couldn't believe his luck when he jumped into the back to find Tuffers at the wheel.
Tufnell said: "Sport brings people together and Esso's collaboration with Liftshare is encouraging more people to travel to matches together this summer. John had me laughing with his quips and then picking up an unsuspecting cricket fan through the Liftshare app along the way was brilliant. He saved some cash, got a few stories out of me and the journey flew by. On top of that, it's good to get some cars off the road and reduce a bit of congestion, so it really is a win-win solution."
John Robins, comedian, added: "I used to lift share to comedy gigs all the time with fellow comedians doing the circuit. Sharing a journey makes it so much more interesting, and fun – I got to try out some of my material - so I think it's great Esso is encouraging more people to consider it. Having the chance to jump in the car to a match with Tuffers and Liftshare member, David Hathrill was brilliant. Lots of cricket chat, some surprising car snacks and getting excited about the big game ahead with fellow fans was an awesome experience."
According to Esso's research of over 2,000 drivers across the UK, Peter Kay comes out on top as the most desirable lift sharing partner (20%), followed by Ed Sheeran (19%), David Beckham (16%) and Gordan Ramsay (15%).
More than 700,000 people have joined Liftshare for free to find drivers or passengers. Members of the service save £1,034 on average per year and are part of the bigger picture to reduce CO2 emissions.
According to Liftshare's savings calculator, sharing a round-trip journey three days a week from Bristol to Cardiff with one other person could save around £863 in annual travel costs (£6.20 per day), and reduce annual CO2 emissions by 1.61 tonnes.
Amy Young, community manager at Liftshare, said: "Esso and Liftshare have a common goal - to reduce the number of car journeys. At Liftshare we're passionate about changing travel behaviours, that's why we provide our platform free of charge to help people easily find someone to share with and save money. Our members use Liftshare for regular journeys like a commute, as well as one-off trips for sports events, festivals and more. With so many events happening across the UK this summer, now is the perfect time to kickstart your lift sharing journey."
Patrick Rutherford, Esso UK retail sales manager, commented: "At Esso we're on a mission to help people engage in a more thoughtful approach to driving, whether that's through filling up with lower emission fuels, driving more economically or making one less car journey. Our link up with Liftshare is integral to that final point and it's been a pleasure to work with Phil Tufnell and John Robins to help raise awareness of all the good things that can come out of lift sharing."
Esso is offering an additional 500 Nectar bonus points on their next Esso purchase when people sign up to the app.