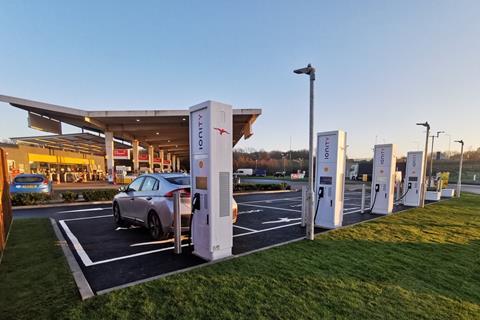 Six new high-power 350kW chargers using 100% green energy from source to socket, have been installed at the Extra Motorway Services area on the M25 at Cobham.
The work on the Shell forecourt has been completed by UK Power Networks, responsible for power flow across London, the south-east and east of England, which worked with charge point operator IONITY to energise the new charging points.
Challenges included managing traffic flow, including lorries within a limited space, according to Tom Atkinson, senior project designer at UK Power Networks: "The next decade is a critical time for the UK's transition to a net zero economy. We undertook some of the works outside normal working hours to minimise any disruption for customers and we're delighted with the outcome. We hope to continue our success with this kind of electrical connection and are working closely with various key players in this field to develop a portfolio of projects."
David Metcalfe, roll-out manager at IONITY, said: "The UK needs high-power charging stations in order to support the transition to net-zero transportation. As IONITY and other charge point operators in the UK continue to roll out high power charging infrastructure, it's crucial that local distribution network operators can quickly and efficiently deliver new large connections. The project at Cobham with UK Power Networks was a great example of this."
UK Power Networks says it is leading the development of a smart, flexible grid to support electric vehicles, improve air quality and reduce the capital's carbon footprint. It advises councils, firms and individuals how to best connect EV charge points, and plan electric vehicle fleets.
The electricity firm has also held surgeries with forecourt operators to assess the most cost-effective solutions to transition their premises into EV hubs. Working with other stakeholders, they have worked to reduce the space requirements for forecourts by 50%, so even small sites can install EV charging infrastructure.