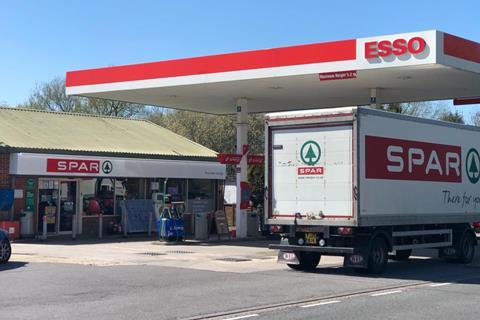 Three west country forecourt stores have reported a boost in business after refits in co-investment schemes with Appleby Westward, the regional distribution company for Spar stores in the south west.
At Stapleford, a village on the A36 near Salisbury, Esso garage owner John Carter decided to move to Spar earlier this year after becoming increasingly disillusioned with product and deliveries from his supplier.
John, who has run the business for nearly 20 years, decided the time had come to make a change and embarked on a co-investment scheme with Appleby Westward to refit the 1,000sq ft store under the Spar fascia.
"I felt unhappy with the delivery windows we were getting from our wholesaler and that we were really just a number on their supply list," said John. "Appleby Westward had been in touch with us over the years and we knew Spar has a very good product range and the best own label products of any symbol group, so we made the move."
A store refit followed with new chillers, Smokin' Bean coffee, an enhanced food-to-go offer, fresh fruit and vegetables, off licence, fresh meat, an in-store bakery and refreshed merchandising throughout.
"It's great to have deliveries on time, availability is brilliant, and the service and support is amazing," said John. "The order lead times really help my business. Chilled sales have increased by 50% and it's great to hear the positive feedback from customers on the range we now have."
At Ilminster, Somerset, business has been given a lift after owner Laurie McKinnon invested in a refit, new product lines and the latest refrigeration for chilled products. Working with Appleby Westward, Laurie undertook a full revamp of the kitchen and bakery area, introduced the Cook range of frozen meals and puddings, installed two of the latest Costa coffee machines, a new drinks fridge and refreshed the store inside and out.
"In terms of business, we were already massively ahead of budget anyway, but the changes we have made have been an additional boost," said Laurie.
"Introducing the Cook premium range has been very successful with sales of £2,000 a week which have not had an impact on other frozen sales at all."
The business has been in the family for more than 20 years. Laurie's late father John and his mother Linda had run the village shop and Post Office in Long Sutton, Somerset, before buying the redundant Ford dealership in Ilminster.
They approached Appleby Westward and moved their forecourt shop under the Spar banner, designing a newer and bigger store to enhance the Texaco forecourt. Then, eight years ago, with Laurie at the helm, the family carried out a £100,000 co-investment scheme with Appleby Westward, transforming the business.
Today, the 1,800sq ft store remains strongly focused on fresh and chilled produce, frozen foods, beers, wines and spirits, bakery, food-to-go and Costa self-serve coffee.
At Thornfalcon, near Taunton, customers of the forecourt store have complimented the owners after the shop re-opened with a fresh look.
The merchandising team from Appleby Westward carried out a store refresh, involving putting in a new counter, reinvigorating the product range, introducing a new coffee machine and expanding the fresh fruit and vegetable offer.
Thornfalcon Garage, owned by Knight Brothers Ltd, is a busy Texaco petrol station on the A378 near its junction with the A358 outside Taunton, and the business moved its 500 sq ft forecourt store under the Spar banner 10 years ago.
The store is run by Carole Knight, wife of owner Ian. "Our customers have told us how much they like what we've done," she said. "The store needed a fresh look, and we are very pleased with the result." Knight Brothers also operate a privately owned and operated minibus and coach hire travel business from the site, offering a bespoke service via a fleet of 17 vehicles.