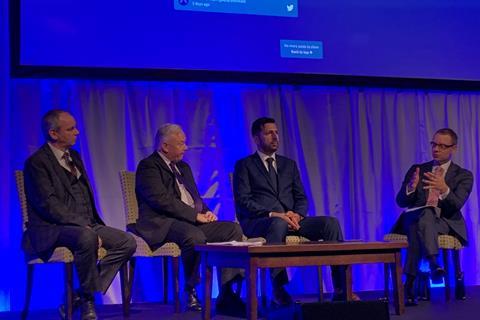 Hydrogen was heavily featured as the APEA conference kicked off with a panel discussion around future fuels, hosted by Peter Campbell of the Financial Times.
Abrar Bajwa, HRS asset manager of ITM power, suggested it could be used to meet net zero targets. He said: "Our company is trying to offer a solution to the net zero targets, and we believe hydrogen could be a fuel of the future. It has zero emissions and it's the most abundant element on our planet, so really is a way forward. We currently have eight hydrogen refilling stations in the UK, so there are challenges, but these can be overcome."
Campbell questioned him on these challenges, saying the way hydrogen is made and then pumped into a lorry is a very carbon-intensive process.
"We're fully aware of these issues, and we're working on our engineering innovation to try and solve this problem," said Bajwa. "Our vision is to produce clean hydrogen from electrons from offshore wind and solar."
PRA executive director Gordon Balmer raised financial concerns, as well as logistical issues, and said: "Not every forecourt is acceptable for alternative fuels. Sometimes they just won't have the space."
"Hydrogen is expensive initially," confimed Bajwa, "but when demand increases, and there are more windfarms, we will be able to produce it for less, and then eventually there will be hydrogen available for the same price as petrol and diesel."
However, Balmer argued many retailers could not currently see a financial justification for investing in EV charging points or pumps with different fuel types. He explained: "They would install equipment right now if they could make money on it. There needs to be sufficient critical mass for alternative refuelled vehicles for them to start to see a proper payback on the investment.
"When the market is ready, and when there's sufficient number of alternative vehicles on the road, they will invest, provided they've got facilities on site."
Andy Eastlake, CEO of Zemo partnership said: "I think there will be bespoke petrol available. We're already talking about e-fuels in motorsport for example. Actually banning those vehicles from the road may happen in cities…what we've got to do is decarbonise the mainstream transport and then focus the 'nice to haves' in niches."
"It won't be until 2040 or 2050 before you see a marked decline in internal combustion engines, so we're still a way off yet," Balmer concluded.