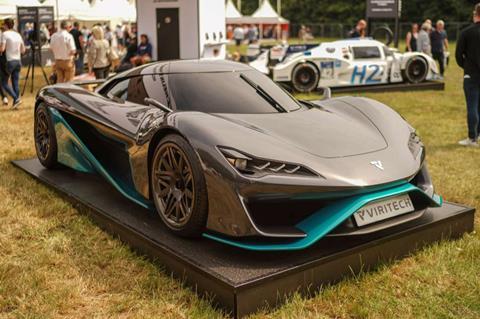 A zero-emission "hypercar" powered by a hydrogen fuel cell, which weighs far less than its battery-powered rivals, has been unveiled by car marker Viritech.
The company says it has overcome the problem affecting high-performance electric vehicles where higher power outputs require increasingly weighty batteries
The Apricale weighs less than 1,000kg and according to Viritech it combines the weight benefits of an ICE (internal combustion engine) car with the instant throttle response of an EV.
Viritech CTO Matt Faulks explained: "Hydrogen fuel cells have, until now, been used as range extenders for powertrains with batteries at their heart. We've essentially turned that approach on its head, developing a powertrain around a multi-hundred kW fuel cell system supported by a lightweight but highly efficient battery.
"This delivers hypercar performance for the Apricale but at less than half the weight of typical BEV hypercars. Not only does this reduction in weight transform Apricale's driving dynamics, but our reduced reliance on batteries means less demand on rare earth minerals."
One of the downsides of hydrogen vehicles has been the heavy hydrogen storage tanks needed to withstand the pressure. Using lightweight composites and resin, Viritech has reduced the weight of the tanks significantly which lowers weight, improves packaging and increases range. The Apricale is expected to cover 350 miles before refuelling. The company has a patent-pending system that allows a continuously variable mix of energy from the fuel cells and batteries, and it claims the regenerative braking benefits from far greater energy recovery than a traditional BEV.
The Apricale can deploy 800kW and a single ratio can take it from rest to beyond 200mph.
The design of the prototype was optimised by Pininfarina, and the two companies are in talks to produce a run of 25 cars built by the Italian company.