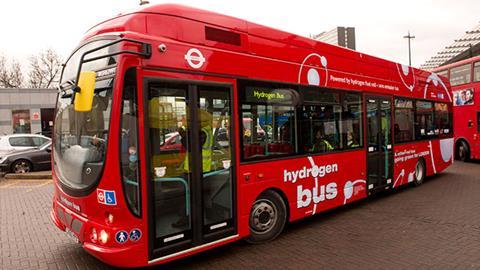 A significant step has been made in fuelling hydrogen buses in the UK with Ryse Hydrogen signing a three-year contract with Suttons Tankers to transport bulk hydrogen gas to different locations in the UK, starting with London.
Suttons will move the hydrogen, produced by Ryse Hydrogen in Runcorn, to the capital where Transport for London (TfL) will be operating 20 hydrogen-powered double-decker buses later this year.
The contract will be going live at the end of September with a phased transport solution leading to a day and night-time operation once the capital's fleet is fully operational.
In addition to London, bus manufacturer Wrightbus will be introducing fleets of hydrogen-powered buses later this year in other areas such as Aberdeen, Belfast and Dublin. It also claims to be in talks with authorities in Birmingham, Liverpool, Manchester, Brighton, Glasgow and Edinburgh.
Jo Bamford, CEO of Ryse Hydrogen and owner of Wrightbus, said: "This is a hugely important step forward in kick-starting the hydrogen economy in the UK.
"In order for us to get these buses running on UK streets we need to be able to transport the hydrogen from the production sites to the areas it is needed.
"Suttons will transport the hydrogen from the North West to London, where hydrogen buses will start running.
"Suttons Tankers are a reputable logistics provider of bulk gas which made them the obvious partner of choice.
"We look forward to working with Suttons on this contract and are proud to be supporting the capital in its efforts to reduce its emissions."
Michael Cundy, managing director of Suttons Tankers, said: "We are thrilled to be awarded this contract with Ryse Hydrogen which represents a significant move in TfL's pledge to offer more sustainable modes of transport.
"This will demonstrate to the wider public transport sector the practical and environmental benefits of hydrogen fuelled technology."