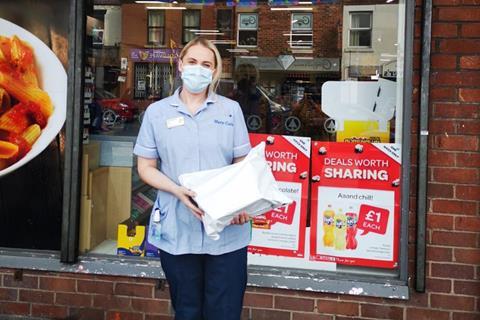 Spar wholesaler and retailer James Hall & Co has set up a scheme to enable 150 Marie Curie nurses in the North of England to collect essential PPE from their local Spar.
James Hall is the wholesaler for nearly 650 Spar stores across the north of England and includes 36 forecourts among its 145 company owned stores.
Marie Curie nurses use an average of over 58,000 pieces of PPE a month, and due to Covid-19, deliveries have been heavily disrupted.
Marie Curie healthcare assistant Flora Snape said: "I was so happy to hear I could pop into my local Spar and pick up my PPE, rather than waiting for it to arrive in the post. I was even able to do a bit of shopping at the same time, which was very convenient for me and I'm sure it will be for other colleagues with busy lives.
"At a time when coronavirus has had, and continues to have, a devastating impact on our fundraising and income, this initiative from James Hall will help save the charity vital funds. So, on behalf of the nursing service, I would like to say a big thank you to Spar for making this possible and for their continued support."
Peter Dodding, sales and marketing director at James Hall & Co, said: "Just like Marie Curie nurses, Spar stores play an integral role in the community and we are absolutely delighted that we can help save time and money for the charity to spend where it is needed most.
"Nurses have been able to collect a month's supply of PPE from their nearest Spar store, including a network of independent Spar retailers and company owned stores, all who are thrilled to be able to play a small part in ensuring Marie Curie's team of dedicated nurses can continue to deliver such a vital service for families across the UK."