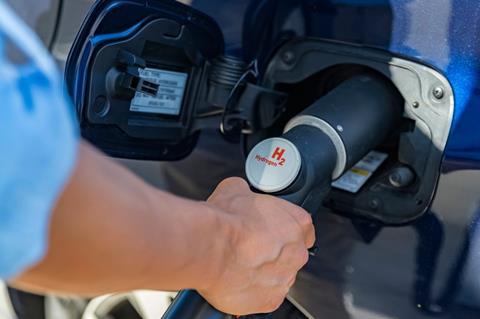 Energy infrastructure development company Carlton Power has set up a joint venture which will commit an initial £200m to construction and operation of green hydrogen production schemes in the UK.
In partnership with Schroders Greencoat, a specialist investment manager dedicated to the renewable energy infrastructure sector, it has formed a new joint venture company, Green Hydrogen Energy Company Ltd (GHECO), to accelerate the development of green hydrogen projects in the UK.
The partners are aiming to build a project portfolio in the UK of 500 MW by 2030.
The first projects in GHECO's portfolio are intended to be Trafford in Greater Manchester, Barrow-in-Furness (Cumbria) and Langage, near Plymouth (Devon). In March 2023, these three schemes, all originated and developed by Carlton Power, were shortlisted by the UK Department for Energy Security & Net Zero (DESNZ) to receive financial support from the Government's Hydrogen Business Model / Net Zero Hydrogen Fund in the first Hydrogen Allocation Round (HAR1).
DESNZ intends for projects awarded contracts to kickstart the low carbon hydrogen economy across the UK, helping meet the national ambition of up to 1GW of electrolytic hydrogen production capacity in operation or construction by 2025.
To support the achievement of these targets, Schroders Greencoat and Carlton Power are making an initial funding commitment of £200m from funds managed by Schroders Greencoat to build these schemes and future projects within Carlton's project pipeline.
In the GHECO joint venture company, Carlton Power will manage the development, construction and operation of current and future green hydrogen projects, with Schroders Greencoat leading on the financing of the projects and leveraging its UK renewable energy expertise.
Carlton Power is aiming to secure final agreements with DESNZ for the Trafford, Barrow and Langage projects before the end of 2023 and plans to submit further green hydrogen projects in Hydrogen Allocation Round 2 (HAR2) of the Government's Hydrogen Business Model / Net Zero Hydrogen Fund.
The Trafford, Barrow and Langage projects are planned to enter commercial operation in 2025, with HAR2 projects starting operations in 2026. Each project will supply green hydrogen to local industrial and manufacturing companies wishing to decarbonise their operations and all will have the potential to supply hydrogen to other businesses in the area, in addition to local transport operators.
Keith Clarke, founder and chief executive of Carlton Power, said: "We are delighted to be joining forces with Schroders Greencoat to develop a significant green hydrogen portfolio in the UK. The decision by Schroders Greencoat, one of the foremost investors in renewable energy in UK and Europe, underlines the strength and quality of Carlton's projects and our team, as well as confidence in our local development strategy and our decision to work with blue-chip industry off-takers, such as Kimberly-Clark. We want GHECO to be the leading green hydrogen production company in the UK."
James Samworth, partner and co-head of Schroders Greencoat's Energy Transition team, said: "We are aiming for GHECO to become one the UK's most ambitious hydrogen investment platforms. As one of the leading renewables investors in the UK, we have been long-time front-runners in the deployment, management, and optimisation of the country's renewable infrastructure - it made perfect sense for us to partner with Carlton, one of the country's leading developers. Hydrogen is a huge opportunity and will play a centrally important part in the energy transition. This partnership provides the perfect platform for us to enter the space, accelerate the development of green hydrogen projects here in the UK, and provide investors with access to this growing industry."