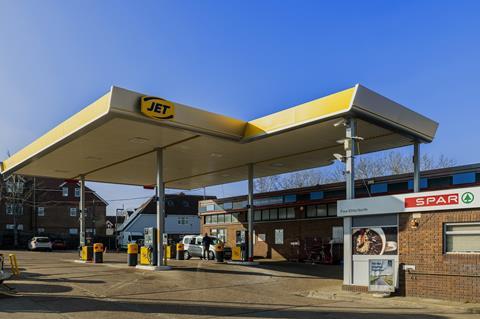 One of Jet's longest-standing dealer sites, 4 Elms, has re-signed with the fuel brand nearly 50 years since first coming on board.
The re-signing follows major works recently carried out at both 4 Elms North and South, which sit either side of the A228 Main Road in Chattenden, Kent. The refurbishment includes: a major rebrand, tank relining and the introduction of new Jet Ulta Premium Unleaded fuel.
Dating back to 1966, the site was originally purchased by Gordon Dearnaley and became a Jet site 10 years later. Since then, 4 Elms has seen a number of changes including being split into two to make way for a new road running directly through the site. Today, 4 Elms remains a family business and is now run by Gordon's son, Robert Dearnaley.
"We take pride in the strong relationships we've built with our dealer sites and so we're thrilled that Robert and the 4 Elms team have chosen to remain with Jet after nearly half a century in yellow and blue," said Chris Murphy, retail account manager, South East, Phillips 66 Limited "Here's to many more happy years and the evolution of a key site that continues to thrive and grow."
Robert Dearnaley, managing director of 4 Elms said: "We have a long, successful and happy history with JET and are extremely pleased to have signed a new deal. We look forward to ongoing success and being the best we can for our customers."