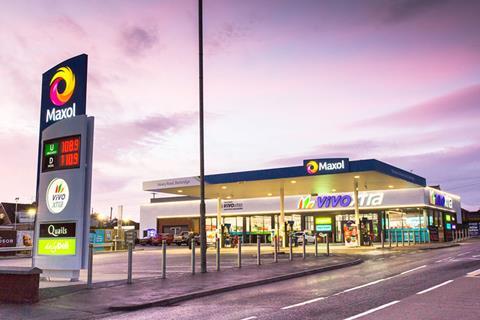 Henderson Retail has opened a VivoXtra supermarket with a Maxol-branded forecourt at Banbridge in County Down, Northern Ireland.
The £4m development took almost a year to build and is the first VivoXtra community supermarket in its retail network. It now operates 97 Spar, EuroSpar and VivoXtra stores in Northern Ireland, with over 70 including petrol filling stations.
The Banbridge site has a six-pump Maxol forecourt and a 72-space car park.
The 6,000sq ft store includes a new Quail's Butchery counter and Windsor Bakery display, both of which are well-known businesses in the Banbridge area.
John Fox, the store manager, said: "The build of the store took almost a year, and that was because we were slightly delayed by Covid lockdowns. This meant revising some of our plans for the build, in line with new safety measures, which means we have a destination where our shoppers can not only get all they need, but they can do it safely."
The supermarket is the first site in Northern Ireland to install the group's most advanced payment system, which offers a touchless cash process at the checkout. Working in conjunction with Glory Cash Infinity, Henderson Technology has installed the technology in the full-service checkouts, which means shoppers can still have a personal service, but without any cash touch points between the till operator and shopper.
Mark McCammond, retail director at Henderson Group, said: "The store will have three self-scan checkouts, but we know shoppers don't always want to do this themselves so we have installed the Glory Cash Infinity hardware where shoppers can insert their cash at our traditional checkouts, and receive their change, without having to physically hand cash to our staff. It works seamlessly with the Henderson Technology EDGEPoS software.
"Not only does this keep a vital personal service for our shoppers, but it will keep queues to a minimum and footfall flowing, which is really important for safe operations at the moment."
He added: "This is the third new build site we have opened in the past few months, and we're delighted to be able to provide much needed employment and amenities for the area. We know value and convenience is incredibly important to our shoppers right now, as well as their safety, and we're confident we are providing this in our new build VivoXtra."
In September Maxol announced the renewal of its strategic alliance with Henderson Group, in a deal worth £425m over five years.