GRIDSERVE and Moto open latest High Power Electric Super Hub at Moto Thurrock, featuring 12 x High Power 350kW-capable chargers
First GRIDSERVE Electric Super Hub to serve the M25 is a major step forward towards proving reliable and super-fast EV charging for the 200,000 vehicles travelling on the M25 each day[i].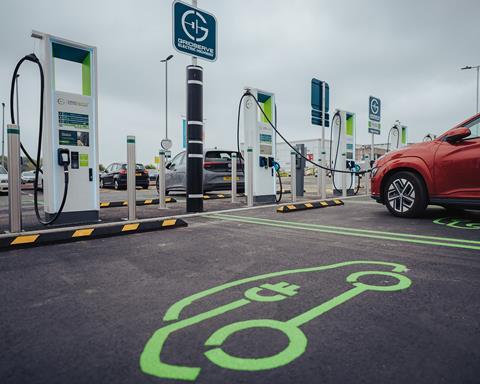 Sustainable energy company Gridserve and motorway services operater Moto have unveiled a high-power electric super hub at Moto Thurrock, located on the eastern side of the M25 between junctions 30 and 31.
The new site features 12 of Gridserve's EV chargers, which provide up to 350kW of power, meaning the latest electric vehicles could add the 117 miles of range required in less than 15 minutes charging time.
To maximise accessibility, all Gridserve electric hubs have been designed to feature both CCS and CHAdeMO connectors, accept contactless payment and provide real-time status updates to a myriad of popular EV charging maps. In keeping with Gridserve's purpose to move the needle on climate change, the chargers are also powered by 100% net-zero carbon energy from the company's pioneering hybrid solar + battery farms.
Gridserve and its partners at Moto are committed to levelling up EV charging infrastructure across the UK, ensuring that drivers in every part of the country have access to dependable, affordable and super-fast EV charging – whether local to their home or on the motorway network to support long distance journeys.
The deployment of the Thurrock Electric Super Hub is the latest demonstration of this commitment, representing part of a multi-million-pound investment into expanding the Gridserve Electric Highway – a nationwide EV charging network that was acquired by the sustainable energy company 11 months ago. Thanks to its partnership with Moto – the UK's largest motorway services operator – Gridserve has delivered three all-new High Power Electric Super Hubs at the company's sites in just five weeks; Burton-in-Kendal, Exeter and now Thurrock. Within this timeframe, Gridserve has also opened its second, world-leading Electric Forecourt® format in Norwich.
Toddington Harper, CEO of Gridserve, said: "We are committed to building a UK-wide charging network at a speed that will help give EV drivers the confidence they need to undertake any journey, irrespective of what electric vehicle they drive, and charge quickly, reliably and affordably. This is what is necessary to move the needle on climate change. Thurrock is further proof that we're building on our partnership with Moto and we'll continue to deliver more High Power Electric Super Hubs throughout the year. The level of passion on display and the pace of development within Gridserve never ceases to amaze me."
Moto chief executive, Ken McMeikan, said: "At Moto, we are absolutely passionate about transforming the electric vehicle charging experience for drivers across the UK's motorways. We are delighted with the progress that our partnership with Gridserve is making towards delivering a future of more sustainable motoring. As a business, Moto is currently on track to deliver above and beyond Government-set targets of six rapid chargers at each motorway service area by 2023. We have seen exceptional usage at our first Ultra-rapid hub at Rugby which opened last year and been thrilled with the hugely positive response from our EV driving customers".
Thurrock's Electric Super Hub will provide quick, convenient charging for both the Thurrock and wider Essex communities, as well as visitors to the nearby Lakeside and Bluewater Shopping Centres. The Thurrock Electric Super Hub also supports the Mayor of London's EV infrastructure strategy, as the vast majority (74%) of car and taxi trips that include the M25 are known to start or end in London. The Mayor of London has an ambition for the Capital to be a zero-carbon city by 2030.