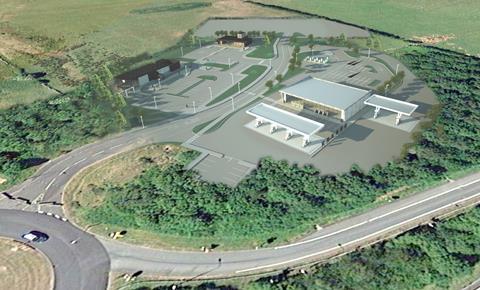 A prominent roadside development opportunity in North Wales is being formally re-marketed by property agents Hindley Lawrence for the first time in five years.
The current owner, building and development company Watkins Jones Group, is seeking offers for the freehold interest in the nine-acre site, which is located south of Llangefni, off the westbound carriageway at Junction 6 of the A55. The site is bounded by the A55 junction 6 to the North and agricultural land to the West, East and South.
The site is described as being centrally located on the Island, enjoying a prominent location fronting junction 6 of the A55 expressway. The A55 serves as the principal arterial route across the Isle linking Bangor and the mainland, 12 miles to the East with the Port of Holyhead, 18 miles away on the isle western peninsula. The town of Llangefni lies less than 1.5 miles to the north and the development has the potential to serve the local population, the considerable year-round tourist trade and Port traffic.
It has outline planning consent - dating back to 2017 – for the development of a roadside service area, comprising petrol filling station, hotel and four retail units, together with associated access, roads, parking and landscaping.
Alternative commercial uses including general industrial, storage and distribution, and truck stop have been seemed acceptable in principle.
Access from the road to the site via a roundabout has already been constructed, part of which has already been adopted by the council.
In describing the opportunity Hindley Lawrence says the site offers the opportunity to provide a comprehensive Trunk Road Service Area in a relatively unopposed trading position on this section of the A55 expressway: "The Isle of Anglesey has limited HGV Truck Stop provision, so the property's proximity to The Port of Holyhead make it an ideal location for a comprehensive Truck Stop to be included as part of a wider service area. There is potential to deviate from the existing planning consent to deliver enhanced Service Area including Truck Stop and EV charging facilities. Alternatively, the balance of the site, shown opposite as 'HGV Parking' maybe suitable for a range of alternative uses, subject to planning and including: restaurant, additional drive-thru, hotel, trade counter, warehousing and storage uses."
Hindley Lawrence director Paul Mather said: "Hindley Lawrence are delighted to have been appointed by Watkin Jones, as joint agents with Richard Baddeley & Co, to relaunch this prominent Trunk Road Service Area development opportunity. With the benefit of an outline planning consent for Roadside Service Area use the site offers a unique opportunity to acquire the freehold interest of a potential new-to-industry TRSA in an relatively unopposed trading position."
"