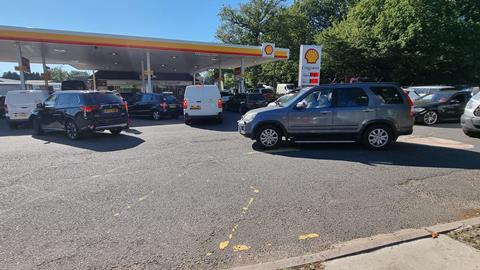 There has been panic buying and queues of traffic at forecourts after reports that a number of sites across the country ran out of fuel due to a shortage of tanker drivers.
The Cornwall Live website ran a picture of a long queue of traffic for the petrol station at Morrisons' site in Liskeard, which was blocking access to the supermarket, and reported there were also long queues in Newquay.
On the BBC News website there were pictures of long queues at a number of sites in Wales.
However, a spokesperson for the trade association for the fuel industry UKPIA sought to reassure forecourt owners and the wider public that "fuel is currently getting to the vast majority of consumers".
They said: "The fuel supply chain is resilient and fuel is currently getting to the vast majority of consumers. The sector will keep working to ensure that remains the case.
"There have been a few confirmed reports of temporary forecourt grade-outs in parts of the UK. These have been caused by some delays in the supply chain due to haulier driver shortages, which are not unique to the downstream sector but are being seen across the economy.
"Industry and government will continue to work together to reinforce the sector's workforce to ensure fuel and other supply chains remain strong for years to come."
Press coverage has highlighted that fact that a number of BP sites had to close due to fuel shortages, but Esso, Shell and Tesco have all confirmed to Forecourt Trader they too are being affected by supply issues.
A spokesperson for Tesco said: "A small number of our petrol stations in Dorset have experienced temporary supply issues caused by driver absences in recent days. We expect the situation to improve in the next week and apologise to our customers for any inconvenience caused." They remained tight lipped about whether there had been any forecourt closures and whether the affects were more widespread than just Dorset.
However, an Esso spokesperson said: "A small number of our 200 Tesco Alliance retail sites are impacted in some way. We are working closely with all parties in our distribution network to optimise supplies and minimise any inconvenience to customers. We apologise to our customers for any inconvenience."
A Shell spokesperson said: "Our current situation is a small number of our sites are experiencing short-term fuel shortages, due to the industry wide issue of limited driver resources. We're adapting our delivery schedules so that stock outs are kept to an absolute minimum."