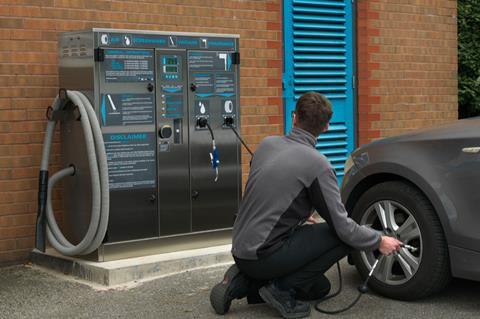 PCL has introduced a new machine to its range of inflators for petrol stations, offering several forecourt services from a single compact unit.
The Multi-Function Digital Forecourt Tower provides tyre inflation, water/screen wash, vacuum and fragrance from a single cabinet, enabling forecourt owners to provide a range of revenue-generating services in a smaller footprint.
The unit is housed in a stainless-steel cabinet that can be bolted to the ground and can be branded and tailored to meet individual requirements.
Features of the Multi-Function Digital Forecourt Tower include:
digital inflation technology – with touch buttons and integrated reels – providing tyre inflation with electronic pre-set pressure setting, and audible and visual end-of-cycle signals;
water and screen wash unit with integrated reel;
power vacuum using bagless technology to make it simple to install, use and maintain;
fragrance module with fragrance gun, 3m armoured hose, and removeable bucket suitable for 15 litres of fragrance;
a range of payment methods – cashless, coin and token.
Export business development manager Jonathan Robinson said: "As a company that dedicates itself to developing products which are tailor-made to help our customers' businesses flourish, we are proud to add yet another innovative design to PCL's range.
"Our Multi-Function Digital Forecourt Tower is a simple, space-saving and reliable way to drive forecourt revenues, both in terms of services it can provide, and cost-savings made from investing in a single, bespoke product compared to buying individual units. In addition, the Multi features an aesthetic design that looks stylish on the forecourt and can be branded with company graphics.
"Customers in the UK and Ireland can also be assured of a prompt and expert local aftersales service should they need ongoing support. For forecourt managers, PCL's new all-in-one digital tower represents revenue-generating multi-tasking at its very best."