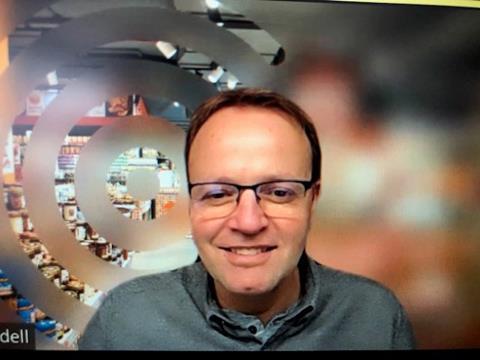 The experience of trading conditions in the past year of the pandemic, has given forecourt retailers a glimpse of a future on the 'road to zero', according to Steve Rodell, managing director - retail, at Christie & Co, which has just released its latest annual 'Business Outlook'.
And with a newly expanded 'Sentiment Survey' in the report, revealing that 53.3% of respondents are interested in buying forecourts as opposed to 21.4% interested in selling, Rodell says this shows the resilience of the sector and proves there will be excessive demand for every site that comes onto the market.
The report reveals that the forecourt sector remained resilient throughout 2020, against an unpredictable backdrop. During the first lockdown fuel volumes significantly dropped to circa 70% of pre-lockdown levels, yet they bounced back swiftly once restrictions were eased. Shop sales increased resulting from the shift with consumer behaviour in favour of local stores over larger grocery chains. The net result in many cases was, ironically, better profitability.
"We've been talking all year about the effect of Covid on trading, but it's given us a glimpse into what the Road to Zero might do to trading as well," says Rodell.
"I did a bit of modelling on a simple example where forecourt fuel sales go down by about 15%, but you tweak your margin up by a pence or two; and then you see a corresponding increase in convenience sales where, on a forecourt with a decent shop, an increase in sales by 10%, increases the overall profitability of the site. It's been borne out by some of the examples we're starting to see.
"So while the volumes are the headline, the real number is the profit - which is actually alright. It could be a glimpse into the future as to what forecourts may trade like."
However, Rodell believes we're still talking a long way away from this being the norm, with 38 million ICE vehicles to replace, and the uptake of Ultra Low Emission Vehicles (ULEVs) remaining subdued at around 10% of all vehicles. Even if uptake of electric vehicles (EVs) rises to 15% by 2030 he says it will take a very long time to replace the many millions of ICE vehicles on Britain's roads. This means the legacy of ICE vehicles will underpin fossil fuel sales for quite some time.
"Irrespective of that, it's not that difficult to start replacing lost fuel profit with other-income profit. My simple example suggests to me that if you can lose up to 18% of fuel volume and replace that with an increase of 10% in shop sales and you're going to make more money anyway.
"I'm not being over-optimistic - I'm being quite cautious. The assumption is there might be a long-term 10% increase in retail sales, where people didn't necessarily use a certain shop pre-Covid and now they realise they can get some decent stuff - there are some great stores with a decent food-to-go offer as well as grocery. They're the ones that will massively benefit going forward. That's how you have to set yourself up in the long run.
"I think there's loads of time for retailers that might be a bit stuck in their old-fashioned ways. If they can modernise what they do, maybe work with a grocery symbol brand for example, and just tweak their offer.
"During the pandemic people have been forced - in the nicest possible way - to use their local shop. There's a lot of customers out there who are very brand loyal, but they've now gone to their local store and realised it's very nice, and actually the prices aren't that different…
"With a bit of luck you can retain some of that custom. Forecourts are in a really unique position to do that. There's such a turnover of customers that don't use the site every day. People are creatures of habit. If they've had a nice experience, they'll go back.
"While there's some thought about still dealing with fossil fuel vehicles for a considerable amount of time, there's also the realisation that a lot of petrol stations are in strategic locations. So even if there is no fossil fuel coming through them they're well located for being roadside convenience offers.
"It's shown a lot of people that they should go for the retail route rather than focusing on the fuel. It's been a good year to see what direction you should be going in - if you were in any doubt at all."
In terms of property sales, again the market has been pretty positive over the past year, according to Rodell: "We expected when Covid hit for everything to suddenly stop, and we were nervous that deals might fall over and people would pull their horns in and wouldn't continue with the deals they were doing.
"There was a pause definitely while cashflow got tighter. But as soon as there was a return to work in June, the volumes went up and the deals carried on - and we completed on the vast majority of those successfully.
"Plus we have launched sites since then with the usual levels of demand. It's been a bit harder for those new-to-industry buyers and those with a smaller deposit to raise funding, which takes a little bit of froth off the top of the market, but if you take the Top 50, for example, they've all got very solid lines of credit and won't have any issues whatsoever. So there is ongoing demand for these assets.
"There's a little bit about longevity about still dealing with fossil fuel vehicles for a considerable amount of time, but also the realisation that a lot of petrol stations are in strategic locations. So even if there is no fossil fuel coming through them they're well located for being roadside convenience offers.
"Demand is across the board. There's quite a huge raft of commission operators who want to own their own business. They don't want to work for one of the big companies on a franchise basis anymore. There's an endless supply of those people and they'll generally be taking the bottom-rung sites.
"The added attraction at the moment is that fuel and convenience are classed as 'essential services' so there's no danger of them being closed down at any time."