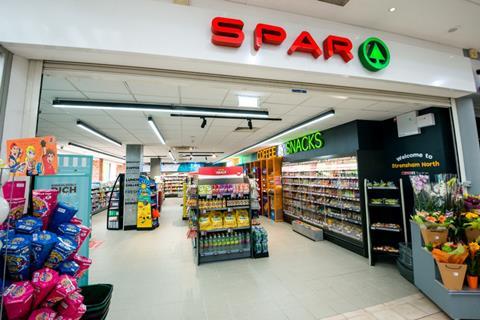 Motorway services operator Roadchef has opened a newly refurbished Spar store at its Strensham North motorway services on the M5 northbound, between junctions 7 and 8.
The store features Spar's latest design, combining a value proposition and a wide range of food-to-go solutions and shopper missions designed to meet the increasing demands from motorists visiting motorway service areas.
The 1,900sqft store has a team of seven staff working in the it and will be responsible for serving more than 7,500 customers that pass through the MSA every day.
Roadchef has invested a significant sum in the refurbishment with the chilled and food-to-go area experiencing the greatest change with the design generated to create instore retail theatre. The areas are contrasted with colours, materials, and neon lights to highlight the units. Additional food-to-go units include Chicago Town Pizza, Hudson Hotdogs, F'real Milkshake and a Squishee machine.
The store also has two Costa Coffee machines and a bakery unit freshly filled with croissants, pastries, and donuts.
Spar's new Joy of Living Locally proposition branding has been included to tie the overall design in of the rest of the store in with the food-to-go feature wall.
Other shopper missions catered for in the store include Meals for Later, fulfilled with a comprehensive range of chilled foods, and Making a Meal where the store stocks a range of frozen food and has introduced Cook frozen food.
The store also continues to stock a large range of Spar own label products.
All low-level refrigeration at Strensham North has been replaced with more environmentally friendly high-level units on the perimeter walls of the store. This follows Roadchef's strategy to improve energy efficiency and the running costs of stores.
Strensham North has two self checkouts and electronic shelf edge labels (ESELs) throughout the store provided by EDGEPoS from Henderson Technology. The system gives live reporting on sales and margin, control and a range of functionality.
Speaking at the Spar store launch, Kevin Whitehouse, retail, procurement and supply chain director at Roadchef, said: "We spent a great deal of time analysing what offer and design would best suit customers visiting motorway services at Strensham North with the team at Spar and we are delighted with the result.
"We originally chose Spar for their industry-leading store design and customer understanding, together with the strength of their brand and distribution platform. The team continue to deliver on their expertise, and we are thrilled with the development of Strensham North.
"Our Spar store at Strensham North will offer drivers, and their passengers, a perfect blend of food-to-go products along with something for tonight's tea. We pride ourselves in providing a relaxing and convenient place for drivers to stop and we look forward to welcoming customers to our newly refurbished Spar store."
Ian Taylor, Spar UK retail director, added: "We are really looking forward to drivers, who stop to refresh at Roadchef's Strensham North services, to visit our newly refurbished Spar store. We are very pleased with the overall look and feel of the store but more importantly how the team have put together a proposition which will serve today's ever changing motorway customer needs.
"As we move into the busy summer period, Roadchef Strensham North is the perfect place for drivers to stop on their journey and recharge. It is great to work with Roadchef. The entire team always bring a fresh approach to motorway food retailing, and we are looking forward to showcasing our latest store concept with this at this site."
Roadchef and Spar have been working in partnership since 2015, with nine Spar stores serving 52 million visitors at Roadchef's sites each year.