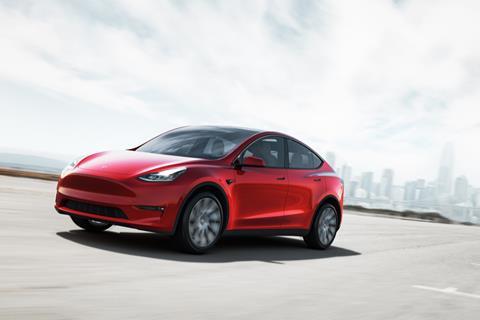 UK new car registrations followed a familiar pattern in March with sales of battery electric vehicles setting a new record while the overall market was down.
During what is normally the industry's busiest month as buyers demand the latest numberplate sales fell by 14.3% to 243,479 units, according to the latest figures from the Society of Motor Manufacturers and Traders (SMMT).
It reported that manufacturers had robust order books during the first quarter, but supply chain shortages – especially of semiconductors – continued to squeeze production.
There were the fewest sales for the month of March since 1998, which was prior to the introduction of the two-plate system.
In spite of the rollback of pandemic restrictions, which limited the industry to click and collect in the first part of 2021, overall registrations for the first quarter of 2022 were down 1.9%.
Battery electric vehicles (BEVs) achieved the highest increase in percentage terms, with 39,315 new cars leaving dealerships – an increase of 78.7% on last year – and taking a 16.1% market share. This is the highest volume of BEV registrations ever recorded in a single month and means that more were registered in March 2022 than during the entirety of 2019.
In addition, two BEV models, both from Tesla, were the top two best sellers in March. The Model Y was in first place with 6,464 sold, and the Model 3 was just behind with 6, 457. The Vauxhall Corsa was in third place with 5,515 sold and it topped the quarterly round-up with 9,797 sold.
Plug-in hybrid (PHEVs) registrations declined by 7.5% to 16,037 units, but hybrids (HEVs) grew 28.4% to 27,737 units. As a result, electrified vehicles comprised more than a third (34.1%) of all new car registrations.
Sales of petrol cars were down 25.6% to 102,349, giving a market share of 42%. Sales of new diesel cars continued to plummet, down 55.2% to 13,736 and a market share of 5.6%, just over a third of BEV figures.
SMMT chief executive Mike Hawes said: "March is typically the biggest month of the year for the new car market, so this performance is deeply disappointing and lays bare the challenges ahead.
"While demand remains robust, this decline illustrates the severity of the global semiconductor shortage, as manufacturers strive to deliver the latest, lowest emission vehicles to eagerly awaiting customers.
"Placing orders now will be beneficial for those looking to take advantage of incentives and lower running costs for electric vehicles, especially as the Ukraine crisis could affect supply still further. With increasing household and business costs, government must do all it can to support consumers so that the growth of electric vehicles can be sustained and the UK's ambitious net zero timetable delivered."