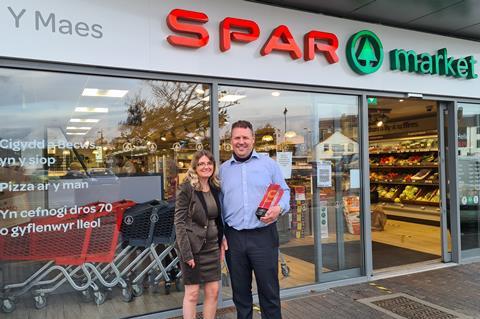 Spar Y Maes in Pwllheli has been crowned Convenience Retailer of the Year for 2020 at The Convenience Awards organised by William Reed Business Media's conveniencestore.co.uk, Lumina Intelligence and The Grocer.
The 23 award winners were announced to an online audience watching a digital broadcast of the event hosted by TV presenter Konnie Huq.
The two biggest awards for the evening were presented live on location, with a roaming camera crew surprising the winners in store with the trophy. The Shoppers' Favourite Convenience Fascia was awarded to Premier. Calculated using Lumina Intelligence's Convenience Tracking Programme, the UK's largest face-to-face shopper study, Premier scored consistently well across a range of KPIs, in particular staff friendliness, speed of service, store cleanliness and ease of shop.
The final award for the evening was for Convenience Retailer of the Year. This award was decided through an independent judging process, with visits to each shortlisted store, before a panel of independent convenience retail experts got together to decide the winner.
Spar Y Maes in Pwllheli has a wide range covering both everyday necessities and inspirational purchases such as aged meat and fresh lobsters. The store also includes in-store butchery, bakery and food-to-go counters to ensure maximum quality and freshness.
Conrad Davies, owner at Spar Y Maes, said: "It's fantastic to win this award. It's a complete shock for us but we're really pleased. With everyone going through tough times right now, it's great to have a morale boost like this.
"It's a reward for all of the staff at the store who have worked so hard over the past six months. None of this would have been possible without the support of the local community. A.F. Blakemore has also been a tremendous support and a big part in helping our vision for the store come to life.
"When we were planning this refit, this was just an idea I had in my head and AF Blakemore helped make it a reality."
Jill Livesey, managing director at Lumina Intelligence and Lorraine Hendle, managing director at The Grocer and Conveniencestore.co.uk, said: "Convenience retail has been on the frontline since the beginning of the pandemic, ensuring local communities have access to the essential produce that they need. Last night saw the entire convenience community come together to recognise the achievements of individuals, initiatives and businesses that are at the forefront of our brilliant industry. Huge congratulations must go to our winners; however, every single award was incredibly closely contested, showcasing the high standards set across the industry."
Martyn Parkinson, brand director at Premier, added: "I'd really like to say a very big thank you to all of our Premier retailers and this shows they are doing a fantastic job for their shoppers and serving their local communities. This is the third consecutive year Premier has won this prestigious award and it's an absolute honour to accept it on behalf of our customers.
"It has been an extraordinary time for independent retailers and this awards demonstrates the extra mile that our Premier customers have been going for their shoppers. We always encourage our retailers to focus on choice, price and service to deliver what their shoppers are looking for from a convenience store. It is then our job at Booker to support this and give our customers what they need to succeed. I hope this award will really inspire our retailers to know that they're really being appreciated by their shoppers and we can continue to build on this this amazing success. Thank you - this means the world to everyone at Premier, the Booker team and our fabulous Premier retailers."
I had in my head and A.F. Blakemore helped make it a reality."