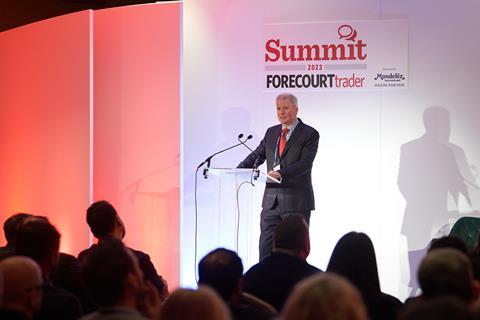 Hydrogen is coming - and it's coming a lot quicker than many people think, according to Brendan Bilton, chief technology officer of Element 2, the company formed during the pandemic with the goal of building the first commercially-scaled hydrogen refuelling station network in the UK.
Element 2 is currently identifying and securing more than 125 strategic hydrogen refuelling sites across the UK and Ireland before 2030, and is targeting interested retailers who have a suitable site of about a quarter of an acre – enough room for a twin dispenser and turning circle for trucks.
In his presentation to delegates at Forecourt Trader Summit 2023 Bilton revealed that two sites should be operational before the end of the year - the company is already working with former Forecourt Trader of the Year winner Exelby Services to install hydrogen refuelling services on the A1M and M6. The company wants to build a network where there is no more than 100 miles between each hydrogen refuelling station around the UK, which will unlock the long-range haulage business.
"We are about 15-20 years behind the rest of the world, but that's to our advantage as we can see what works elsewhere," he said.
"Battery electric vehicles have been tried out around the world in all different categories and classes of vehicles, but there's a real problem when it comes to HGVs where you've got long distance and heavy loads to move about; or short loads with huge power demands like refrigeration units; or refuse collection vehicles where you've got all the hydraulics - plus an RCV is one of the few vehicles that gets heavier as it goes along."
While battery electric trucks and buses are proven technologies, they have limitations as regards range, up-time availability and load carrying capacity.
In terms of hard numbers, Bilton said total grid generation capacity in the UK for 2019/20 was 350 terawatt hours; while the total amount of energy consumed by just road transport in 2019/2020 was 690 terawatt hours.
"So if you want to transfer all of that fossil fuel - 690 terawatt hours - into electric power, we'll need a grid that is three times bigger than the grid today.
"But it gets worse than that, because if you're going to do it with renewables, you're going to need a grid that's six to eight times bigger than it is today, because you'll need at least double the capacity, as renewables aren't on all the time, and you'll need a huge amount of energy storage.
"To put that into context, that means that the UK in 2040 will need to have a grid capacity increase the same size as today's grid in Germany, France and Italy combined. It's an absolutely massive problem. That's why hydrogen is there in the mix."
The company describes itself as a site developer, distributor, operator, and retailer; not a technology owner or hydrogen producer. It has been trialling various hydrogen-fuelled vehicles with commercial vehicle drivers and the feedback has been good.
"The drivers really like them. A lot of them have been used to battery-electric vehicles, so they have range anxiety - they don't have that with hydrogen vehicles."