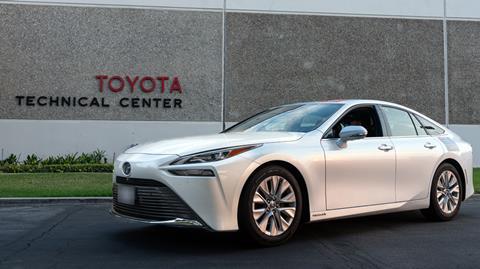 A 2021 Toyota Mirai has broken the Guinness World Record for the longest distance by a hydrogen fuel cell electric vehicle without refueling.
On a single fill of hydrogen, which took five minutes to complete, the Mirai achieved 845 miles during a roundtrip tour of southern California. The record sets a new distance milestone for zero emission vehicles.
"In 2016, the Toyota Mirai was the first production fuel cell electric vehicle available for retail sale in North America, and now the next generation Mirai is setting distance records," said Bob Carter, executive vice president, Toyota Motor North America. "We are proud to be leaders of this exciting technology, which is just one of a growing lineup of zero emission vehicles in our portfolio."
The official record attempt was monitored by Guinness World Records, adhering to its rules and documentation procedures. On its efficiency-focused two-day journey, driven by professional hypermiler Wayne Gerdes and co-piloted by Bob Winger, the Mirai logged 152 MPGe (miles per gallon equivalent) with water as its only emission. Guinness World Records adjudicator Michael Empric validated the Mirai's tank with a seal at both the beginning and end of the journey.
"As a Guinness World Records adjudicator for 10 years, I've had the opportunity to witness incredible attempts, including several distance-related feats," said Empric. "The Toyota Mirai's journey without the need to refuel showcases the power of fuel cell electric technology. This technology and the design ingenuity by the team at Toyota led to a history-making moment."
By the end of the trip the Mirai consumed a total of 5.65kg of hydrogen. It was driven mainly during rush hour traffic in temperatures between 65 to 83 degrees Fahrenheit, and emitted no CO2. Toyota said a standard internal combustion engine vehicle would have emitted about 664lbs of CO2 over the same distance.