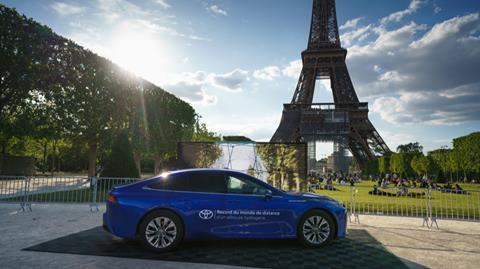 A Toyota Mirai has increased the world record distance for one fill of hydrogen to 1,003km (623 miles).
The journey was on public roads south of Paris and in the Loir-et-Cher and Indre-et-Loire areas, and the distance and consumption were certified by an independent authority.
Green hydrogen was used during the record attempt and the average fuel consumption was 0.55 kg/100km, with the Mirai being able to store 5.6 kg of hydrogen.
The Mirai has a driving range to around 650km (404 miles) under normal driving conditions, with less than five minutes refuelling time at a 700-bar refuelling station.
To achieve the 1,003 km record, the drivers adopted an "eco-driving" style but they said there were no special techniques that could not be used by everyday drivers.
Frank Marotte, CEO of Toyota France, commented: "It's an amazing challenge that we achieved with the new Mirai. Internally, it is the mindset of Start your Impossible, going beyond our own limits, that drives us, and we proved it again today. I would like to thank the teams of Toyota France and Toyota Europe, as well as Victorien Erussad at Energy Observer, with whom we share the same vision and the same ambition. It is by strong partnerships that we will be able to contribute to a better and more environmentally-friendly society."