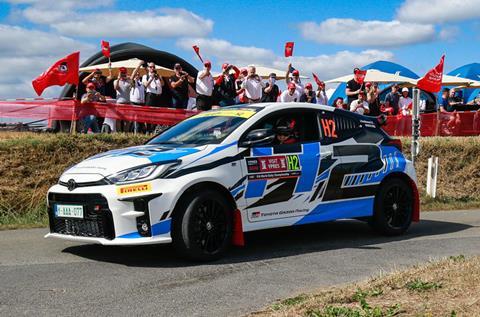 Toyota has raced a prototype hydrogen-combustion engine car outside Japan for the first time, at a rally event in Belgium.
Toyota president and CEO Akio Toyoda drove the Toyota GR Yaris H2 at the World Rally Championship (WRC) race in Ypres over the weekend, with WRC champion Juha Kankkunen as his co-driver.
The company also had a Toyota Mirai – which is powered by a hydrogen fuel cell – on display at the venue, and Toyoda commented: "I believe that, together with driving using a hydrogen engine, we were able to highlight in Europe the potential of hydrogen as an option for achieving carbon neutrality."
Kankkunen added: "The hydrogen engine put out solid torque, making it no different from a gasoline engine. Because they emit zero CO2, I believe hydrogen engines will become one of the options for achieving carbon neutrality not only in the world of motorsports but also in the world of everyday cars."
In Japan, Toyota has raced a lightly modified Toyota Corolla, using a hydrogen-combustion version of the GR Yaris's 1.6-litre turbo engine.
According to Toyota, hydrogen-combustion technology enables cars to become zero-emission relatively affordably as it allows manufacturers to exploit "existing internal combustion engine know-how and manufacturing investment".
Toyota's Europe CEO Matt Harrison said a hydrogen combustion engine would enable Toyota to "deliver almost zero tailpipe emissions without electrification, but it does so while retaining the things fans love most about race cars – the speed and the noise."
The GR Yaris H2 uses the same refuelling hardware as the brand's Mirai production car.