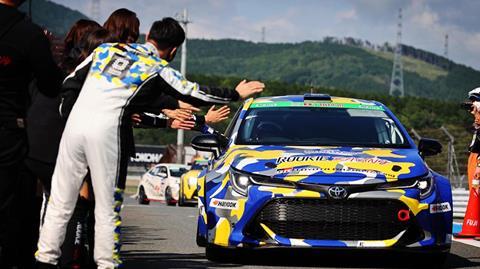 Toyota is evaluating the feasibility of running conventional combustion engines on hydrogen as a zero-carbon alternative to electric vehicles (EV).
When hydrogen burns it produces steam and no CO2 is generated.
As part of the project the car manufacturer debuted a hydrogen-combustion-powered car in a 24-hour endurance race in Japan.
The converted Toyota Corolla completed 358 laps around Fuji Speedway, a distance of 1,634km. This was less than half the 763 laps travelled by the winning car, and the vehicle notched up 11 hours and 54 minutes of racing on the track, and during the rest of the 24 hours about eight hours were spent conducting repairs and safety checks in the pits, with around four hours needed for refuelling hydrogen.
Toyota president Akio Toyoda emphasised that the project was at a very early stage commenting: "It's amazing that we completed the race. This means we ran over 1,500km, right? We faced many problems, but thanks to everyone's hard effort, we completed the race with a car almost at a shakedown stage.
"I believe there were many findings because we made the car ready in time for this race. We probably wouldn't have found which parts could break if we had pursued making all parts perfect and free from getting broken.
"Thanks to the findings, we now know what the issues are, and this 24-hour race has become a milestone for us to prepare and go further."
Koji Sato, president of Toyota's Gazoo racing team, explained the difference between the hydrogen combustion car and Toyota's hydrogen-fuelled Mirai model, which is already in production. He said: "Although the Mirai also uses hydrogen, it does so by generating electricity. The Mirai doesn't actually have an engine. But this car does have an engine, which is fuelled by hydrogen.
"This means we can use existing engines while replacing the fuel with something that is carbon neutral. We may even be able to launch gasoline-powered cars that can be converted [to hydrogen-powered vehicles] at a later date. This would transform the way cars are made, and right now we're trying to open the door to that future."