40% of those switching to a UK break were concerned about flight cancellations.
More than a third of UK holidaymakers will take their summer break within their own region.
Two thirds of those on domestic breaks will go by car, with the average trip covering 406 miles.
Tyre problems cause one in five motorway breakdowns, yet only two thirds of drivers will check tyre pressures.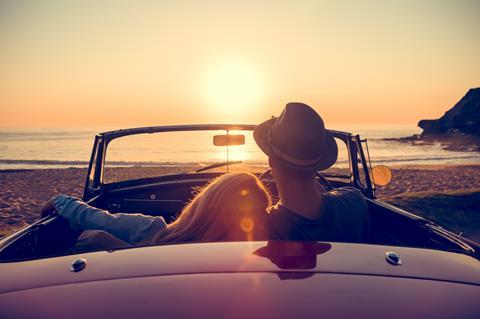 New data released today by tyre specialist Kwik Fit reveals the impact which uncertainty has had on the UK's summer travel plans, with more people planning staycations and the majority driving to their destination.
The figures show that of the 15.7 million people going on a UK holiday this summer, some 3.75 million holidaymakers are those who usually take their summer break abroad but have decided to switch to a domestic destination this year.
A further 3.9 million people are having a true staycation – spending their summer holiday at home with short trips or days out. Of this group, 1.1 million normally travel overseas.
The research for Kwik Fit found that over two thirds (68%) of those travelling to a UK destination for their summer holiday will drive there, and over three quarters (77%) of those staying at home and going on short trips or days out will use their car to do so. The average distance people will travel on their UK holiday is 406 miles, with this figure potentially reduced by the fact that many people staying the UK are remaining close to home. Over one third (37%) of those staying in the UK, some 5.9m people, say they will be spending their summer holiday in their own region.
However, there will be some drivers clocking up the miles - 6% of those driving to a UK holiday destination say they expect to drive more than 1,000 miles on their trip.
The research, carried out this week for Kwik Fit, reveals that of those who have decided to stay in the UK instead of going abroad as usual, 40% were put off from flying abroad by the fear of airlines cancelling flights. Twenty five per cent say they remain concerned about Covid-19 and feel that there is a lower risk of catching it in the UK than abroad.
Nearly a quarter (23%) said the overall cost was a factor - that it will be cheaper for them to holiday in the UK rather than go abroad. Almost as many, 22%, say they were put off from going abroad by delays at border control caused either by post-Brexit regulations or staff shortages.
One in six (16%) have picked a destination closer to home to reduce the cost of travel, with 10% saying that the rising cost of fuel put them off driving abroad.
The research revealed one much-needed bright spot for the domestic holiday industry after the pandemic. Twelve per cent of people who usually holiday abroad in summer but are staying in the UK this year said one of the reasons for doing so is that they holidayed in the UK during the pandemic and enjoyed it so much that they have decided to do it again.
However, 26% of people say they are not having a summer holiday this year – compared to 12% who say they don't usually take a summer break.
The research also found that just 67% of the drivers travelling over 750 miles will be checking their tyre pressures before setting off on their summer holiday. Older drivers are much more likely to pay attention to their tyres - research showing that 85% of motorists over 55 will check their pressures before setting off on holiday, almost twice the proportion of those aged 18-34 (46%).
Just six in 10 drivers (59%) will check their screenwash, while the same proportion (58%) say they will make sure their engine has sufficient oil.
Despite the current heatwave, with further sweltering temperatures predicted, just 39% of drivers will check their coolant levels before heading off on holiday. Less than a quarter, 24%, will make sure their air conditioning is functioning efficiently.
"In these uncertain times, our research has shown that for a variety of reasons, many people have switched their summer holiday plans to a location much closer to home," says Roger Griggs, communications director at Kwik Fit. "With so many holidaymakers relying on their cars to get them to their holiday destination, it's vital that they make the necessary checks before they set off. The checks themselves don't cost anything but could flag up an issue which could otherwise turn into a big problem when on the road."