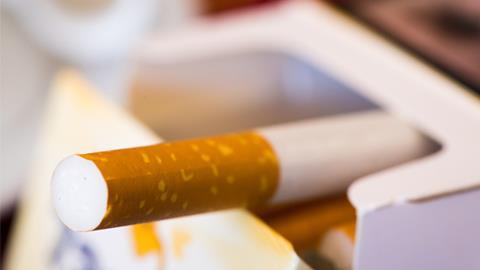 The Association of Convenience Stores (ACS) has warned that new government increases in duty rates on tobacco products will drive more consumers to the illicit tobacco market.
The warning came after the government announced on Thursday November 12 the duty rate on all tobacco products will increase by 2% above Retail Price Index (RPI), hand-rolling tobacco will rise by an additional 4%, to 6% and the Minimum Excise Tax by an additional 2%, to 4% above RPI inflation this year.
The increase will take effect from Monday 16th November 2020.
ACS chief executive James Lowman said: "We know that sharp increases in tobacco duty push consumers to the illicit market, and this is especially prevalent in the hand rolling tobacco market where the government have introduced 4% duty increase.
"The illicit trade in tobacco brings criminality into communities and is extremely damaging to legitimate retailers. We need more enforcement, not higher duty rates, to tackle this problem."
In a document announcing the increases the government said: "The government is committed to maintaining high tobacco duty rates as this is an established tool to reduce smoking prevalence and to ensure that tobacco duties continue to contribute to government revenues.
"Increasing hand-rolling tobacco (HRT) and Minimum Excise Tax (MET) above the duty escalator will narrow the gap between HRT and cigarette duty rates and ensure the MET continues to be effective in the current market."
However, it conceded: "In response to higher prices, some individuals could choose to consume less, some could down-trade from more expensive to cheaper tobacco products, and others could engage in cross-border shopping or purchase from the illicit tobacco market. HM Revenue and Customs (HMRC) will monitor and respond to any potential shift in illicit consumption as part of its strategy to combat tobacco fraud."