To make businesses more profitable, run faster and better, forecourt retailers are seeking more sophisticated tools. We hear how one forecourt is utilising an integrated software platform to drive efficiencies and streamline growth.
The forecourt and wider retail industry is undergoing a significant transformation, driven by advances in technology and shifts in consumer behaviour. And as the ongoing disruptions in the supply chain and other economic factors continue to push the cost of goods up, retailers need to be astute and many are adopting innovative technologies to stay ahead of the curve and sustain business growth profitably.
Sewell On The Go is part of The Sewell Group, a multi-disciplinary group of companies operating across retail, construction and estate management. It employs 250 people in 13 locations in Yorkshire, providing round-the-clock forecourt and retail services including fuel, fresh food, coffee, car wash and valeting services, parcel collection and many others.
Its ambition is to grow the business by maximising the services it delivers on existing and future sites, such as with its parcel collection and valeting offerings, but all with a keen eye on sustainability.
But to achieve expansion targets and cope with an inflationary environment, the company knew it needed to increase overall business efficiency and data accuracy, as well as review every aspect of its operations.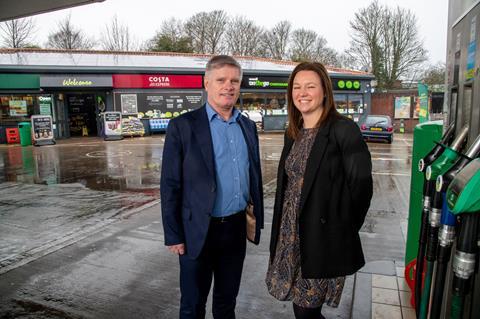 End-to-end visibility of all operations
Indeed, to achieve a competitive advantage, it's vital companies truly understand their performance and discover ways to enhance it. Sewell On The Go therefore sought an integrated software solution to examine its entire operation with a view to streamlining it and cutting the administration costs.
The business quickly saw an opportunity to partner with Envisage, to assist them on their digital transformation journey. Connections from Envisage is an integrated software platform that is all about making complex processes run in a simpler and speedier fashion for businesses.
The Connections application employs automation to streamline laborious back-office procedures, resulting in enhanced accounting efficiency and more precise data management. Originally designed with forecourts and convenience stores in mind, it is an optimal solution for retail environments with high transaction volumes.
By leveraging this software, organisations can automatically process and efficiently manage substantial amounts of accounting data, including sales, cash and purchase invoice and delivery data. It enables businesses to run their accounts department effortlessly, freeing up staff to concentrate on other essential tasks.
From an environmental perspective, the Connections scanning module helps retailers reduce their carbon footprint by eliminating the paperwork typically associated with transferring documents between stores.
The software offers a revolutionary solution by connecting EPoS systems such as CBE's WinRetail application, with software such as Sage 50 and Sage 200, to facilitate the smooth transfer of sales, cash, and delivery information between stores and the accounting system.
This innovative approach provides superior insights into business performance, presenting profit and loss statements categorised by department, readily accessible for management review, as well as detailed financial reports based on real-time data. This empowers retailers to access all the essential data at their fingertips so they can focus on growing their business and becoming more profitable.
Significant time savings and increased efficiency
The team at Sewell On The Go are delighted with the impact the software has had on the business. It was clear that in adopting the Connections software, it would enable the business to achieve a considerable saving in time spent entering data, while also increasing efficiency, and improving data accuracy.
By optimising their processes with Envisage's Connections software, Sewell On The Go has not required additional administrative staff as it continues to grow at pace. The adoption of a single data entry system has resulted in a 50% time saving on this activity, along with improved data accuracy. This has also allowed the team to focus on other areas such as innovation and sustainability to drive value-adding business growth activities.
The Connections solution enables the automation of previously manual tasks. Beforehand, supplier invoices and matching delivery dockets had to be entered twice. Now this has been reduced to once, saving up to two days a week. Less manual data entry also reduces the chances of data entry errors and results in more accurate information which enables faster and better-informed decision-making.
Alex Mortimer, finance director of Sewell On The Go, said: "Envisage has been an invaluable partner in our business transformation journey. With the implementation of their Connections software, we have seen significant time savings and increased efficiency, allowing us to focus on other key areas of growth.
What's more, Envisage's focus on responsive service and people aligns perfectly with our own values, and this is why we work so well together. Their support during the installation was seamless, and any queries were dealt with quickly. Envisage got the set up right the first time, and as a result, we've had almost no issues since. We value their partnership and the positive impact it has had on our business."
Book an appointment with us at National Convenience Show to find out more - https://info.envisagecloud.ie/book-appt-forecourt-trader

Envisage, part of the Noledge Group, is a leading Sage 200 and Sage Intacct partner and software developer. The company provides implementation, development, and support services for both Sage 200 and Sage Intacct, helping its customers across the UK and Ireland to streamline their internal systems and processes. When it comes to retail, Envisage knows and understands the challenges that retailers face with managing and growing a business. The company focuses on delivering solutions for the Convenience and Forecourt sectors as well as for retailers and franchises with multiple stores and high transaction volumes. The Connections application was born out of the frustration that retailers experienced in having to contend with paperwork, slow and inefficient processes, and lack of real-time reporting. This technology gives forecourts and convenience retailers the competitive edge by facilitating increased efficiency and productivity, while improving data accuracy and data visibility. Envisage partners with EPoS providers and wholesalers to expand this innovative solution to convenience and forecourt retailers across the UK and Ireland.
View full Profile