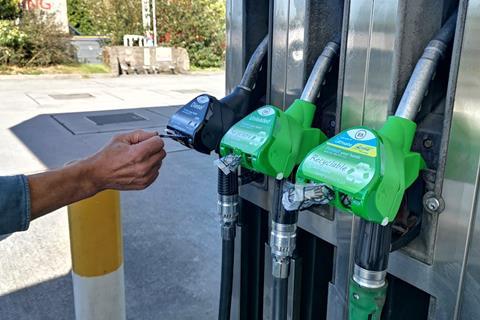 Calls to mandate the use of hand-protection by customers on forecourts to stop the spread of increasingly contagious strains of Covid-19 are being ignored by ministers, it is claimed.
A letter to health secretary Matt Hancock on 8 March pressed for hand protection to be made compulsory to reduce the spread of coronavirus, but it failed to receive a response.
Oli Yeo, managing director of GripHero, which gave away on-the-nozzle hand-protection dispensers free to forecourts internationally at the height of both the first and second wave of coronavirus, specifically to protect drivers, sent letters to the Department of Health and Social Care, the Chief Medical Officer, Matt Hancock and Conservative MPs.
He said that at the current levels of infection up to 18,760 drivers a day could be needlessly coming into contact with Covid-19. At the height of the pandemic, he calculated the figure could have been up to 378,000 drivers every day.
Commenting on the lack of response, Yeo said: "We find it astonishing that a simple way to protect millions of drivers is being ignored. So many forecourts offer hand-protection, but if customers fail to use it, they stand a very real chance of contracting illnesses from other drivers that have held the same surface for 2-3 minutes.
"If motorists have to wear hand-protection when refuelling, that instantly prevents the potential for Covid-19 being passed on from the hand of one driver to the next via the fuel pump handle. It also protects drivers from contracting other illnesses, and from coming into contact with biohazards, chemicals and carcinogens."
He added: "The government's initiative of 'Building back better' should surely look at the learning points of the coronavirus pandemic and prepare the country to deal with further variants that could be more transmissable. That includes avoiding high touchpoints where disease can be easily transferred.
"As drivers increasingly travel across the country following the easing of restrictions, transmission of more virulent strains from one area to another becomes more likely. People already wear masks, and yet cases continue to rise. There needs to be a circuit-breaker in this high contact-point area, which is exactly what hand-protection provides.
"Surely now is the time to take action and to make a change that will safeguard drivers and their families. By adopting this quick, simple and immediately implementable measure, the Government would not only aid their future disease prevention and control strategies, but would also enable the UK's fuel retail network to become the safest in the world."