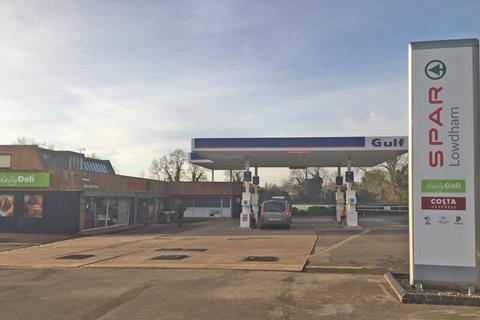 Car dealership owners Duncan and Lisa Betts have teamed up with Blakemore Trade Partners to open a new Spar store and forecourt in the Nottinghamshire village of Lowdham.
The husband and wife team have operated a car dealership in the village, situated between Nottingham and Southwell, for nearly 20 years and decided to expand into convenience retailing with the opening of their Spar store last month.
The independent business owners decided to invest in a project to convert an old workshop into their dealership showroom and their old showroom into a 2,000sq ft Spar store with a Gulf-branded forecourt.
The project at Spar Lowdham took only five weeks to complete after starting in early October. The couple have invested a total of £300,000 into the site, which includes co-investment of £60,000 from Blakemore Trade Partners.
Duncan said: "We have worked in this area for 20 years and we knew there was a great opportunity for convenience. We always had a kiosk and a forecourt on the site, but we were keen to create something special. We have been impressed with Spar and met with Blakemore Trade Partners to discuss the opportunity.
"Spar is a well-known trusted brand and has a fantastic range of bespoke and everyday products. We are thrilled to see all our plans delivered and through a pandemic. It has been a total leap of faith, but we are very confident of the future.
"Lowdham is an affluent village and there is a big demand for quality fresh produce. Our Spar store and forecourt is in a great position to supply both core range and high-end products to serve the need of all our customers."
The Spar store includes a new County Bridge fresh meat range and an extensive selection of chilled meals together with a bespoke licensed section. Daily Deli, Costa Coffee together with Freal Milkshakes have been added. The couple are planning to open a 1,500sq ft Insomnia coffee shop in 12 months' time inclusive of an off and on licence. The home delivery app Snappy Shopper is also available to local customers.
The refit was undertaken by Blakemore Design & Shopfitting and included a big electrical upgrade. The site includes a large parking area with 20 parking spaces and a community space for hire, something which is currently missing from the local area. "When things get back to normal, we hope the store will become a local hub with plentiful car parking, in order for our customers to linger and use the facilities without car parking pressure," added Duncan.
The fuel side of the business has also undergone a makeover with four new pumps added together with Gulf branding, and it also provides air and water facilities. Electric charging is being considered for the future.
"Since opening on 3 November, there has been a great reaction from shoppers," said Oliver Walters, business development manager at Blakemore Trade Partners. "BTP's Store Cluster strategy, which is aimed at helping retailers differentiate their stores for different locations and markets, is built on customer insight and is ensuring that the investment made by Duncan and Lisa is really delivering on what customers want and need.
"Together with the new Spar store and Gulf forecourt, social media advertising and the contacts Duncan and Lisa have acquired over the years from their dealership, we have no doubt this is going to be a huge success for them. The first two weeks of trading have been great. Lisa and Duncan are very brave to embark on this new project, especially during a pandemic, and we look forward to supporting them every step of the way."
Spar Lowdham employs eight people and is open seven days a week from 7am to 10pm.