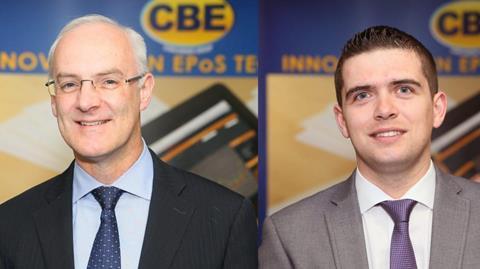 Retail IT company CBE has made key management appointments following the retirement of Sean Kenna from the position of CEO.
Dominic Feeney has taken over as CEO, while Gearóid Concannon moves into the role of managing director.
Sean Kenna will continue as an active member of the boards of the Concannon group of companies.
Dominic Feeney has long experience of retail IT having started with CBE in 1993 and worked in various project and management roles before joining the board as systems director in 1999. He had been managing director for the past five years.
Gearóid Concannon joined CBE in 2008 and held various project and management roles before being appointed to the board in 2014. He has held the position of group director at CBE for the past three years.
Headquartered in Claremorris, County Mayo, CBE was founded by Gerard Concannon and his wife Catherine in 1980 and has grown to employ more than 190 people in the retail and hospitality technology sector. CBE designs and develops software applications for the forecourt, supermarket, convenience, hospitality and general retail sectors, and currently operates in 14 countries.