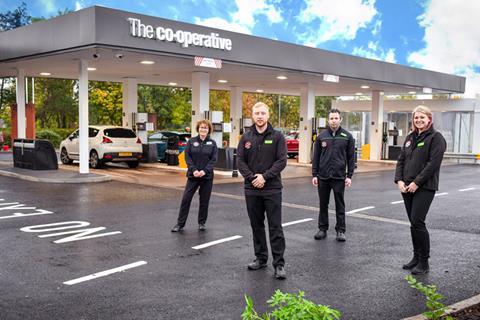 Central England Co-op has reopened its revamped petrol station in Lichfield as it completed the first stage of a £3m redevelopment of its flagship site.
Work on the petrol station was completed in one month and its opening comes weeks before shoppers will be able to see the new flagship store that is currently being built alongside it, which is due to open its doors for the first time in November.
Alongside the new petrol station, visitors will also be able to benefit from a new car park including wider spaces, better traffic flow and improved lighting and walkways, new trees and planters, a new car wash, electric charging points for cars and a bike repair station.
Jamie Joyce, store manager, said: "We want to thank all of our loyal customers and members for putting up with the short-term disruption that has resulted in our new and improved petrol station being completed and opened for business.
"This milestone is the signal that our exciting project to transform Boley Park is progressing really well and that we are only a matter of weeks away from showcasing our new flagship store to everyone."
The £3m project includes the new store, a large unit that will house a gym and two further retail units.
The new store will feature a raft of new elements including special eco-friendly fridges and lighting, a free water refill station, a phone charging area, customer seating inside and outside of the store as well as self-scan checkouts.
It will also include a range of safety features in the light of the Coronavirus pandemic such as plastic screens, a one-way system and social distancing measures.
Once the new store is open for business work will begin on the three additional business units.