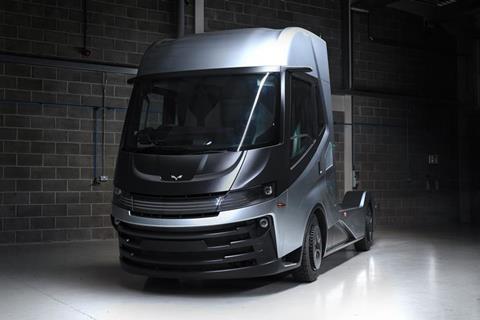 A £6.6m grant to develop and deliver an autonomous zero-emission HGV has been awarded to a consortium lead by EG Group-backed hydrogen-powered vehicle maker Hydrogen Vehicle Systems (HVS).
The Hub2Hub consortium is planning to deliver a self-driving heavy goods tractor unit, which will begin vehicle trials in 2024 with Asda.
The £12m venture has been selected by the Centre for Connected Autonomous Vehicles (CCAV) as a recipient for its joint industry and government-funded project with the aim of showcasing the potential of autonomy in the transportation sector. It is one of seven projects sharing a total of £42m in grants.
The Hub2Hub, consortium will build two prototype vehicles. The first hydrogen-electric HGV prototype will be fitted with a driver's cab and tested on the road in autonomous operation, with a human safety driver at the wheel.
The second prototype will have the driver's cab removed and replaced by an aerodynamic fairing. During the project this vehicle will be evaluated on test tracks, with the CAVStar system in this application allowing a remote human driver, located in a control hub, to operate the vehicle.
It is envisaged that vehicles could be operated in autonomous mode on a hub-to-hub route, with a remote driver then taking control to drive the vehicle from the hub to its end destination.
HVS CEO Jawad Khursheed commented: "A transport revolution is taking place in the UK and HVS, together with the consortium, is at the forefront of the innovation. We are engineering the world's first autonomous hydrogen-electric powered HGV to demonstrate hub-to-hub logistics to a leading retailer, Asda, to elevate public perception, showcasing the potential autonomy can deliver thanks to increased safety and fuel savings, and develop new business models."
Business secretary Grant Shapps said: "In just a few years' time, the business of self-driving vehicles could add tens of billions to our economy and create tens of thousands of jobs across the UK. This is a massive opportunity to drive forward our priority to grow the economy, which we are determined to seize.
"The support we are providing today will help our transport and technology pioneers steal a march on the global competition, by turning their bright ideas into market-ready products sooner than anyone else."
Asda senior fleet manager Sean Clifton said: "Reducing our fleet emissions is a major part of our plan of moving towards net zero, so we are keen to look at innovative new technology, such as autonomous HGV tractor units, which can make a real difference to our carbon footprint. We will continue to work with like-minded partners on projects such as this to reduce our impact on the environment."
In addition to Hub2Hub, the joint CCAV and industry funding winners were:
CAVForth II – Fusion Processing – to launch a self-driving bus service in Edinburgh, with Stagecoach and Alexander Dennis;
V-CAL – North East Automotive Alliance – to roll out self-driving and remotely piloted HGVs between the Vantec and Nissan sites in Sunderland;
Sunderland Advanced Mobility Shuttle – City of Sunderland Council – to build and trial a self-driving shuttle service to the University of Sunderland and the Sunderland Royal Hospital;
Project Harlander – Belfast Harbour – to deploy a self-driving shuttle service around Belfast Harbour;
Multi-Area Connected Automated Mobility – Conigital – to establish a remote driving control hub, to oversee self-driving vehicles operating in Solihull and Coventry, with the NEC and local councils;
Project Cambridge Connector – Greater Cambridge – to trial on-demand, self-driving taxis, to complement existing transport services in parts of Cambridge.
The £42m in government funding is being matched by industry.