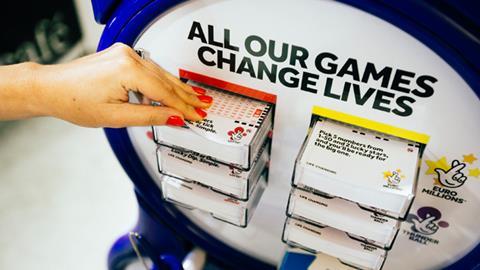 A consultation on changing the regulations for selling National Lottery tickets has been launched by the Department for Digital, Culture, Media and Sport (DCMS).
The move follows a change in the law to raise the minimum age for both buying and selling National Lottery tickets from 16 to 18, which is scheduled to come into force on 1 October.
In a foreword to the consultation, John Whittingdale, minister for media and data, said the National Lottery operator and retailers have since warned that some types of sale risk being significantly impacted.
He explained: "For example, on Saturdays, one of the main days for Lotto sales, when retailers may have higher numbers of 16 and 17 year olds at tills and checkouts and may cease or limit sales of Lottery tickets as a result.
"In order to minimise the impact on retailers and offer additional flexibility, the government intends to introduce an approved sale mechanism for National Lottery tickets, similar to those in place for alcohol sales in England, Wales, and Scotland, and sales of tobacco and nicotine vaping products in Scotland, through which a designated person over the age of 18 can approve a sale by someone under 18 years old. This approach builds on an existing framework while maintaining the intent of the original policy.
"The National Lottery operator has told us that they and many of their retailers support this small easement, which I am confident will serve our twin objectives of protecting the interests of young people while ensuring that the National Lottery can continue to raise funds for the good causes it supports."
ACS chief executive James Lowman commented: "We have asked that with the change in age of play to 18, 16 to 17 year olds should continue to be able to sell National Lottery tickets. The government's proposal for the introduction of an approved sales system to sell tickets takes us a long way towards this and essentially means that retailers need to have processes for approving these sales in the same way we do for alcohol. This will help customers get quick service, help retailers to sell National Lottery tickets, and crucially help younger colleagues to contribute to a wider range of activities in stores."