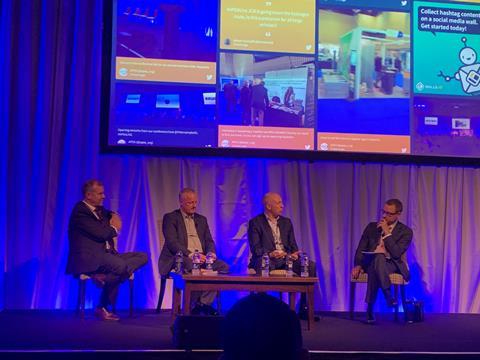 Installing electric vehicle (EV) charging points now is commercial suicide, according to Mark Wilson, chief operating officer of Top 50 Indie, Fraser's Retail.
In a panel debate at this year's Association for Petroleum & Explosives Administration (APEA) conference in Milton Keynes, Mark said there were other ways forecourts could 'do their bit' for the environment. He also strongly rejected predictions that only 30% of forecourts would survive into the future because of the transition to EVs.
When asked by conference host Peter Campbell of the Financial Times why Fraser's Retail hadn't yet installed EV charging points on their forecourts, he replied: "It doesn't make commercial sense to do that, it's commercial suicide. The cost of running these sites is going up and up… If you're making good money on vacuum or airline, why would you take that out and put an EV charging point in that will take you 10 years to get any sort of payback on?"
In terms of becoming a 'greener' business, he said: "We recycle everything from cardboard to plastic, we're looking at our carbon footprint and how we can do carbon capture through solar panels.
"One thing that nobody ever talks about in terms of carbon capture is Stage 2b. We've probably all got it on our forecourts already, but the amount of carbon capture we do through vapour recovery on the pumps, never gets a single mention. So I think these are ways we're doing our bit for the climate… and EV charging isn't the go-to for me.
"It's about solar panels, renewable energy, recycling. We will have to put EV charging in, and we are close to putting it in, but at the moment, it doesn't make economic sense to do so. Again, we will evolve, but we're not going to change overnight - it will be something we will evolve into."
Mark took part in the 'future-proofing your forecourt retail business' panel discussion alongside Filip Spevak from Insomnia coffee company, and Frank McLaughlan from TSG wash.
The conference session began with some predicitons for the forecourt sector from KPMG. One particularly stark prediction argued that only 30% of retail forecourts would survive, which Mark did not agree with.
"We're a lot more resilient than that," he said. "Anyone who has worked in the industry knows that, and knows we love a challenge."
Wilson said the market would evolve and adapt and referred to other market forecasts which predict that even in 10 years' time the most the EV market will be is 8-10% of cars in the UK. He also talked about developments in synthetic fuels.
"So, you know, EV is only part of the answer, it's not the solution. I think there will be another biofuel or synthetic fuel that will come about. ICE (internal combustion engines) are here to stay, and technology will play its part for fuel to evolve… Having said all that, we are putting EV charging points at some of our sites in the new year!"