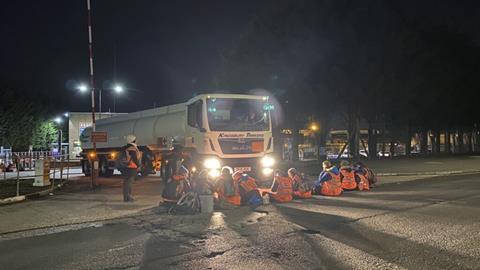 Climate protesters have attempted to blockade seven oil terminals in England and the BBC is reporting that ExxonMobil has halted operations at Hythe, Birmingham, Purfleet and west London.

Just Stop Oil claimed it had mobilised hundreds of supporters early this morning to take action at oil terminals near London, Birmingham and Southampton. and Extinction Rebellion, which is to begin its next wave of protests on 9 April, said it supported the Just Stop Oil campaign and had mobilised its activists to join in.
Protesters glued themselves to roads in an attempt to block access and others climbed on top of oil tankers.
The action was taken despite a temporary high court injunction banning groups from protesting outside oil terminals. At the Kingsbury terminal in the Midlands, and on roads leading to the site, posters said: "Temporary high court injunction in force. Blocking, slowing down, obstructing or interfering with traffic on to this road as part of protest activity by Just Stop Oil, Extinction Rebellion, Insulate Britain movements and other connected movements is strictly prohibited. Failure to comply with the injunction may lead to imprisonment."
A spokesperson for the oil companies' trade association, UKPIA, commented: "Companies in the downstream sector acknowledge the need to reduce greenhouse gas emissions and are making changes now that can reduce our own production emissions, working with other sectors to reduce emissions in industrial clusters, and looking for ways to reduce the emissions of products too. All parts of society need to work together if we are to meet our Net Zero goals.
"Fuel supplies underpin the economy and it is important that any protest does not stop fuels getting to the users who need it, especially the emergency services and other critical workers. We respect the right to protest.
"Our members are in contact with their local police services to monitor the situation and help ensure the safety of their local communities, their employees and the protestors themselves."