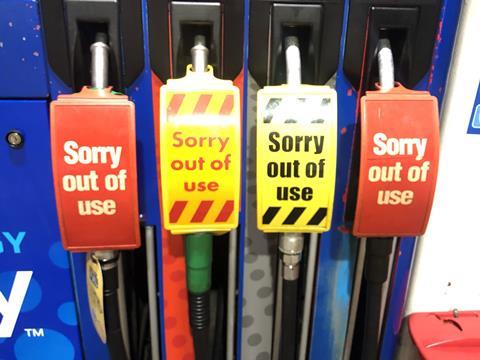 Fuel delivery company Hoyer Petrolog UK has urged motorists to only fuel when they need to as they were making it difficult for service stations to be replenished.
At the moment as soon as a forecourt delivery is made, queues form and the site is drained of stocks within a matter of hours. The fuels crisis has continued today following a weekend of mayhem as 90% of forecourts ran dry during the intense panic buying.
Accusations have also been flying over the 'politically motivated' leak from a recent fuels industry meeting with government officials, which triggered the panic buying. The leak revealed that BP had said its ability to transport fuel from refineries to its network of forecourts was being impacted by the ongoing shortage of HGV drivers and that it was important that government understood the "urgency of the situation" which was described as "bad, very bad".
Industry bosses have sought to reassure the nation that there is no shortage of fuel. There is however, around a five per cent shortfall of tanker drivers, leading to a difficult delivery situation that was being managed until the situation was splashed all over the front pages of the national press.
BP said it was prioritising deliveries to motorway service areas, major trunk roads and sites with largest demand and seeking to minimise the duration of stock outs.
In an update on current fuel delivery operations, Allan Davison, managing director of Hoyer Petrolog UK, said:
"We are 100% focused on our delivery operations and deliveries are getting through nationwide. However, as long as people continue to buy or store fuel that they don't need then it will be difficult to replenish sites. We once again urge people to calm down, fuel up when they need to and the situation will then be able to recover."
RAC fuel spokesman Simon Williams said: "While there's no shortage of fuel at refineries, panic buying over the weekend means every forecourt in the country needs to re-stock at the same time which puts unbelievable pressure on the supply chain. We urge the Government to do everything in its power to plug the gaps in the supply chain and keep deliveries moving normally. But as so many drivers filled up over the weekend, there should be less overall demand as long as fuel makes its way back on to forecourts in the next few days
"We urge drivers to only take the fuel they really need. Stock piling in containers only makes the situation worse for those who desperately need fuel as well as potentially causing unnecessary fire risks if not stored correctly. It's also vitally important the emergency services and businesses that help to keep the UK moving can get access to fuel. We have also seen an increase in our patrols attending drivers who have run out of fuel over the weekend."
HOYER PETROLOG UK FUEL DELIVERY UPDATE
In a statement providing an update on current fuel delivery operations, Allan Davison, Managing Director of HOYER Petrolog UK said:
"We are 100% focused on our delivery operations and deliveries are getting through nationwide. However, as long as people continue to buy or store fuel that they don't need then it will be difficult to replenish sites. We once again urge people to calm down, fuel up when they need to and the situation will then be able to recover."