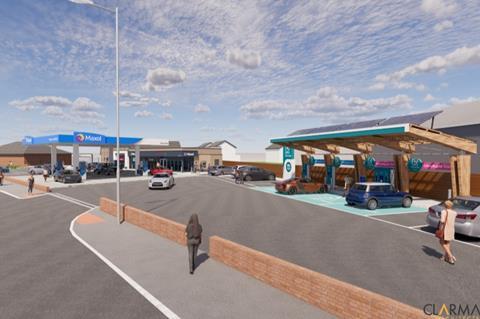 Irish forecourt and convenience retailer Maxol is investing £2.35m in a redevelopment and expansion of Maxol Braid River Service Station in central Ballymena, including adding the group's second EV charging hub, and a modernisation of Maxol Marino near Holywood.
The investment is part of a five-year £84m capital investment programme that Maxol recently announced across its network to meet the growing demand for convenience-led forecourt services that include coffee, groceries and food-to-go.
The group has adopted sustainable forecourt design principles and these will be implemented at Maxol Braid River. Technologies used to reduce the site's carbon footprint will include: photovoltaic (solar) panels to reduce electrical import requirements; solar efficient glazing; the use of LED lights; low energy CO2 refrigeration systems with doors fitted throughout the store; exhaust air-heat pump technology to reduce heating loads; and an energy management system to monitor and control the overall energy usage on the site.
A new EV charging hub will be developed and operated under Maxol's Recharge brand. It will have up to four 200kw EV charging units, providing charging for four cars at any one time.
Elsewhere on the forecourt, Premium Fuels will be introduced to enable customers to make greener motoring choices; car parking facilities will more than double from the current 11 to 32 and oay-at-pump technology will be available at two fuel pumps to ensure greater convenience for customers during busy trading periods.
Braid River's current retail space will expand by 140% from 102sq m to 246sq m to house a doubling of frozen food provision and the number of grocery and chilled bays increasing significantly.
A new Delish Deli with a self-serve chicken bar will be introduced, along with new fFrozen Coca Cola and Frozen Fanta slushie machines. The Barista Bar Coffee will be expanded to two units for improved speed of service and a new bakery for pastries and sweet treats will be introduced Two self-checkouts will also be installed.
Maxol Braid River is closed for the duration of the development and work is expected to be completed in October.
The investment at Maxol Marino Service Station on the main Belfast to Bangor Road at Cultra is intended to enhance and upgrade facilities both on the forecourt and in-store.
Customer flow around the store will be improved by the relocation of the entrance and parking will be increased to accommodate 23 customer vehicles.
The retail space will be refreshed with new flooring, ceiling, lighting and new check-outs. There will also be more refrigeration space added for Grab & Go and dairy produce and additional shelving for an enhanced grocery offer.
Frozen Coca Cola and Fanta slushie machines will be introduced and the forecourt will be refreshed to create a warm welcome for customers with better signage amongst the improvements.
Brian Donaldson, chief executive officer of The Maxol Group, said: "These investments reflect our ambition to develop our service stations with a convenience-led offer that provide our customers with the latest food concepts and convenience goods.
"With Maxol Braid River set to have only the second EV charging hub in our Maxol estate and with the continued rollout of our sustainable forecourt design, these investments reaffirm our commitment to being a more sustainable forecourt retailer. I look forward to the completion of these projects that will ensure we can continue to meet the needs of our customers in modern, vibrant, sustainable and welcoming environments."