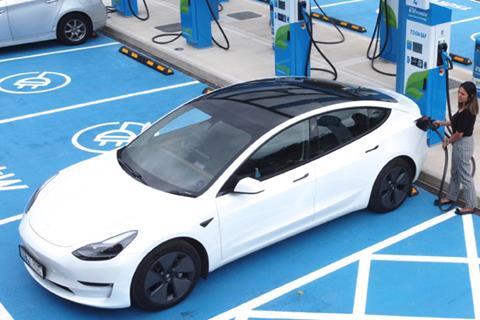 MFG has told competition authorities that supplying auto-LPG is no longer commercially viable and it plans to remove it from all its sites by 2024.
It added that it intends to use the space freed up for EV rapid charging hubs and other services.
The disclosure came in an application it made to the Competition and Markets Authority (CMA) for permission to remove auto-LPG from five sites by the end of June this year.
MFG had to make the submission to the CMA because it is barred from making any material change to its provision of road fuels without permission while the CMA carries out its preliminary investigation into the purchase of Morrisons by MFG's owner, the US private equity group Clayton, Dubilier & Rice (CD&R).
In a statement released by the CMA it said: "MFG submits that auto-LPG is no longer an important product category for modern petrol station forecourt businesses due to a continued industry-wide decrease in demand.
"This decrease in demand means that revenues are low and will continue to decline, thereby making any continued investments, including periodic testing of the facilities, commercially unviable.
"Accordingly, MFG plans to remove auto-LPG from all of its sites between 2022 and 2024.
"MFG also submits that, concurrently, demand for electric vehicles (EVs), and therefore charging points, has increased considerably. MFG intends to effectively replace its auto-LPG facilities with EV rapid charging hubs and other services."
It revealed that MFG plans to remove auto-LPG from the five sites – Olton, Levenshulme, St Marys, Thirsk and Kilmarnock Spar – in order to introduce EV charging hubs and/or to expand other services on the sites.
The CMA gave MFG permission to remove auto-LPG from the five sites, and said it would be allowed to remove it from additional sites, subject to prior written consent.
The restrictions on MFG were introduced after the takeover of Morrisons, when the CMA served an enforcement order on October 26 requiring the companies to operate independently, as they did before the purchase, and it launched a preliminary inquiry in January.
Earlier this week the CMA warned the takeover could lead to higher fuel prices in 121 local areas across England, Scotland and Wales.
The authority said that MFG and Morrisons both have petrol forecourts in all the areas it has identified, and would face only limited competition after the takeover, meaning that the deal could lead to an increase in prices.
CD&R was been given five working days to offer proposals to the CMA to address the competition concerns. The CMA would then have a further five working days to consider whether to accept these in principle instead of referring the case to an in-depth investigation.