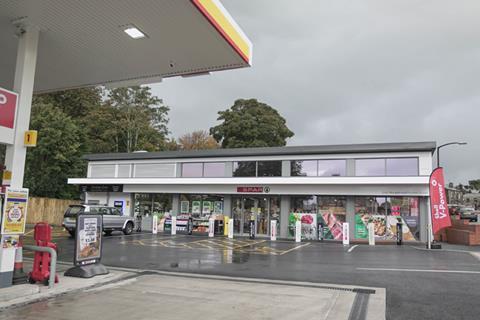 A new Shell forecourt and Spar store has been opened at a site near Bury in Lancashire by Spar wholesaler and retailer James Hall & Co.
Spar Tottington forms part of James Hall & Co's company owned stores division, G&E Murgatroyd, and is the company's 36th forecourt.
The development, on the site of a former car showroom, includes a Shell fuel forecourt with six fuel pumps, an air and water machine.
In addition, there is a 2,900 sq ft Spar store with a Graham Eyes butchery counter, Clayton Park Deli, Cheeky Coffee offering and Tango Ice Blast machine.
Julie McAulay, company owned stores director at James Hall & Co, said: "Spar Tottington offers local residents the very best in modern convenience shopping with an extensive range of everyday essentials, delicious food-to-go and signposts and history boards celebrating the local landscape.
"A large butchery counter offers shoppers the opportunity to purchase local, high quality meat from an award-winning local butcher, Graham Eyes, with deals such as 3 for £10 and a weekly specials board.
"The Clayton Park Deli counter offers a selection of freshly baked baguettes, jacket potatoes, salads, sandwiches, and fresh cream cakes from Lancashire brand, Clayton Park Bakery, and samosas and curries from James Hall & Co's company owned ethnic food brand, Fazilas.
"Shoppers can also enjoy Spar's Cheeky Coffee, which forms part of the brand's £3.50 meal deal, and there is a Super Slimming bay with a selection of low calorie products, large selection of wines, beers and spirits, fresh flowers and a health and beauty aisle."
She added: "Spar Tottington will play an important role in serving local people during and beyond the current crisis and to safeguard shoppers we have implemented social distancing measures throughout the store, including customer dividers and till screens, Spar branded hand sanitisers and social distance markers."