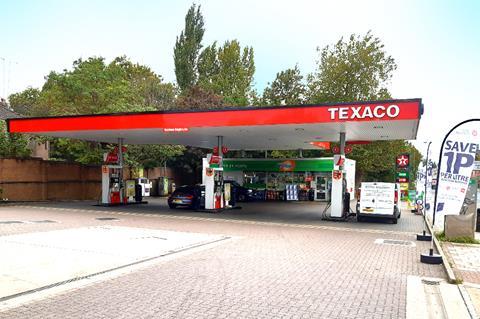 Top 50 Indie Park Garage Group (PGG) has extended its relationship with Valero and added a further two sites to its Texaco portfolio.
The new deal brings the company's total number of sites under the Texaco brand to 30. The new additions are Park Welsh Harp in north west London, previously BP branded for 10 years, and Park Harborne in Birmingham, previously Esso branded for 10 years.
Hemant Tandon, Park Garage Group operations director, said: "PGG holds a successful 30-year relationship with Texaco and is committed, more so now than ever, to strengthening this existing relationship. We have recently expanded our portfolio of sites through the acquisition of Park Harborne and are proud to announce that Texaco will work with us to service this site. Furthermore, we have converted an existing PGG site to Texaco in Park Welsh Harp."
"We will continue to develop our relationship with the Valero family, and in particular with Keith Evans and Andrew Cox as our account manager and director sales and marketing respectively. Both Keith and Andrew's dedication to our business has allowed us to grow far and beyond, and they have always worked hard to meet our vision. We are also proud to say that our existing and new customers have taken an instant liking to the Texaco Star Rewards loyalty scheme and we hope that such rewards from Texaco continue to grow our business."
The Park Welsh Harp site is located in a busy part of London near the M1 motorway and North Circular road system, while Park Harborne is well located near the main routes into Birmingham and near the Queen Elizabeth Hospital. Both sites offer a forecourt shop, jet wash, air water tower (tyre pressure gauge and water dispenser in one) and stock all grades of fuel including Supreme Diesel.
Andrew Cox, Valero's director sales and marketing, said: "Our relationship with Park Garage Group goes back a long way and we are thrilled that Valero remains the fuel supplier of choice for the majority of their sites. Our emphasis on communications and account management has always been paramount and we have built an excellent working relationship with PGG over the years. I am absolutely delighted to have two new Park sites join us and with superb retailers Hemant, Sunil and Balraj at the helm, I'm sure we'll see success for years to come."