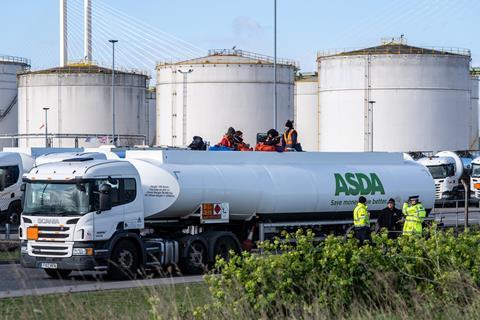 Politicians from both the main political parties have attacked the protesters who have been trying to blockade fuel depots in Essex, Hertfordshire and Warwickshire since April 1, leading to sporadic shortages at some forecourts.
Labour's shadow justice secretary Steve Reid said the protesters were causing "misery" to motorists and called on the government to seek an immediate, nationwide injunction to stop climate protesters targeting oil supplies.
He said: "Motorists were already being hammered by prices at the pump, and now millions can't even access fuel. This is all happening on the government's watch. The Conservatives need to stop standing idly by and put an end to this disruption that is causing misery for motorists."
Meanwhile, a No 10 spokeswoman said: "We recognise the strength of feeling and the right to protest is a cornerstone of our democracy, but we won't tolerate guerrilla tactics that obstruct people going about their day-to-day business."
"We fully support the police who are putting significant resource into their response to the demonstrations."
In its latest report Essex Police said it had made 373 arrests over the duration of the protests. It added: "At this stage, there are no active protests in Essex and all sites which have been affected over the last 12 days are clear of incident and are reporting business as usual."
However, Essex Police assistant chief constable Glen Pavelin suggested the companies that had been affected should be doing more to protect themselves.
He said: "My officers have worked night and day for the last 12 days to prevent disruption and to respond to incidents of criminality.
"However, these incidents cannot be prevented by policing alone. The private companies which are being affected are prosperous industries which are large employers in the area. But with prosperity also comes responsibility to protect one's own private property.
"Of course, we have responded – and will continue to respond – where crimes are being reported. However, there is certainly still work to be done with the businesses affected and we will continue to work together with all of our partners to ensure that we keep everybody safe and bring to justice those committing criminal offences."
And Warwickshire Police has asked residents near the Kingsbury depot to be vigilant and report any suspicious activity.
Assistant chief constable Ben Smith said: "There remains a large police presence in the area and we can respond quickly to any concerns around suspicious activity.
"We continue to be proactive in identifying people we suspect are intent on committing criminal activity and taking appropriate action. This approach undoubtedly helped to reduce disruption to businesses in the area at the weekend.
"Local people are our eyes and ears in the local community and the information they provide could help us to intercept people intent on criminal activity.
"I would like to reassure local people that there is a lot of work going on behind the scenes with local, regional and national partners to secure a long-term solution to the ongoing local disruption and criminal behaviour."
The media was still reporting long queues at forecourts in some areas, and some sites running low, particularly of diesel, but as deliveries are getting through, and the government has relaxed restrictions on drivers' hours to step them up, it is likely any shortages are down to panic buying by motorists, rather than a genuine shortage of deliveries.