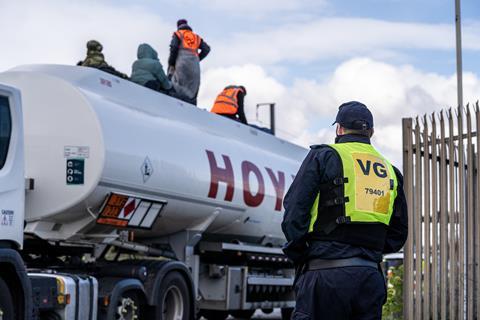 Protesters have attempted to blockade fuel terminals for the eighth successive day and although deliveries are said to be getting through there have been reports of supermarkets running out of diesel and in some cases petrol too, and of long queues of panic buyers in some areas.
When the protests began the co-ordinating group, Just Stop Oil, claimed there was action at seven terminals in Essex, Southampton and the Midlands, but it is now only reporting action in Essex.
It claimed that at about 2.40am this morning two people climbed on a framework of oil pipes at the Grays Inter Terminal near the River Thames in Essex, and succeeded in blocking all tankers from entering and exiting the terminal for approximately three hours, before they were unglued and removed by police. Essex Police confirmed two people were arrested in the area overnight.
And at 7:30am, the protest group said 70 people carrying Just Stop Oil banners marched towards the Navigator terminal, at London Road, Thurrock. They were met by police and sat in the road with some gluing themselves in place. Essex Police said it was in the process of making 65 arrests.
The police force said it had already made 270 arrests in connection with the protests since they started last Friday.
Deputy chief constable Andy Prophet said Essex Police was working closely with the local fuel distribution companies and strongly encouraged them to reinforce their security plans at each site.
He said: "First and foremost, I want to pay tribute to the officers who have responded around the clock to these incidents.
"Their commitment has allowed us to maintain a 24/7 presence in the area throughout the last week. This has not eliminated the disruption but has kept it to a minimum. Fuel transportation has continued and there is no need for any panic buying.
"This has put a real strain on the force. One of the things I'm focused on is what more the fuel companies can do to protect their infrastructure, perhaps using private security.
"If those measures are put in place, policing can deal with these incidents quicker and further reduce the disruption being caused."
He said that so far, policing the protests in Thurrock has cost Essex Police in excess of £1m.
Meanwhile there were scattered reports of sites running short of fuel with Costco in Leicester running out completely, while Asda and Sainsbury in the city were out of diesel. In West Sussex, the Tesco forecourt at Burgess Hill was closed on Thursday April 7, and in South London, Surrey and Norwich there were reports of long queues at soom sites.
Evidence of disruption to deliveries was contained in the latest weekly statistics from the Department for Business, Energy & Industrial Strategy (BEIS) for the week ending April 3.
Average deliveries in Great Britain over the week were 9% lower than the previous week, at 14,030 litres per filling station. It reported that deliveries in the East and West Midlands, the East, the South East and London decreased on Friday April 1, when the action began, though volumes then increased.
With average sales outpacing deliveries, average stock levels dropped by 5.4% to 36%, with the East and West Midlands, the East of England, London and the South East most affected.