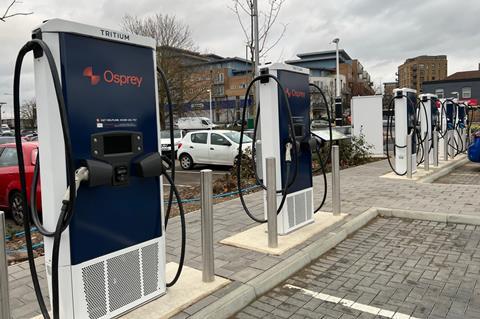 The rate of provision of public electric vehicle (EV) charging points is well below what is required if the government is to hit its target of 300,000 by 2030, according to latest figures published by the Department for Transport.
Using data is provided by the electric vehicle and charging point platform Zap-Map it reported that there were 30,290 public electric vehicle charging devices available in the UK on April 1, 2022, of which 5,494 were rapid chargers.
Since 1 April 2021, the number of public devices has increased by 33%, corresponding to 7,500 devices, and the number of rapid devices increased by 29%, with an additional 1,235 public devices.
However, in order to meet the government target there needs to be an average of 30,000 additional devices a year.
The figures show an uneven geographical spread with London and Scotland having the highest level of charging provision per 100,000 of population, with 111 and 54 per 100,000 respectively. In comparison, the average in the UK was 45 per 100,000.
Northern Ireland had the lowest level of provision in the UK, with 18 devices per 100,000, followed by the North West and Yorkshire and the Humber with 26 and 27 devices per 100,000 respectively.
Scotland has the highest rate of rapid device provision of 13.6 per 100,000, while the average in the UK was 8.2 per 100,000. Rapid device provision was lowest for Northern Ireland and Wales, with 1.3 and 5.8 per 100,000 respectively.
All regions across the UK saw an increase in total charging devices between January and March 2022. London had the greatest increase at 9.4%, while Northern Ireland and the North West had the smallest increases at 0.9% and 3.7% respectively. London also had the greatest increase in absolute number of devices at 863 devices, contributing to 45% of the increase in devices across the UK.
Rapid charging devices also increased in every region in the UK. The smallest percentage increase was in London at 1.9%. Northern Ireland had the largest percentage increase in rapid devices at 13.6%, but this corresponded to an increase of just three rapid devices.
Matt Wills, associate partner and European head of forecourts and charging at management consultants at OC&C, said: "Surpassing 30,000 electric vehicle (EV) public charging points in the UK represents another notable milestone in the electrification of the UK's motor industry. With the total EV fleet expected to equate to roughly a fifth of all vehicles on UK roads by 2030, there should be no illusions as to the scale of the task ahead.
"The government has set a target of having 300,000 charge points installed by 2030. Meeting this will require approximately 30,000 charge points a year to be installed, implying a major acceleration on the current rate of installation.
"Greater provision of public charge points will also make EV ownership more attainable for lower and middle-income families, particularly when many are grappling with the rising cost of living. Despite a marked increase in the range and models of EVs on the market, they largely remain a product of the wealthy, in no small part due to greater off-street parking access.
"For many current and prospective EV motorists, installing charging facilities at home simply isn't possible. Removing this significant barrier will increase mainstream take-up."