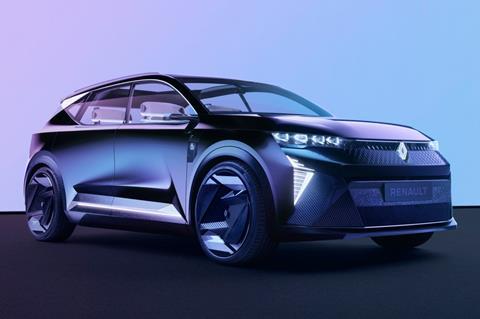 Renault has unveiled a concept car with a hybrid electric battery and hydrogen cell propulsion system, and said it is aiming for an entirely electric range by 2030.
The concept car is driven by a 40kWh battery but also has a 15 kW hydrogen fuel cell to recharge the battery during long drives.
Unveiling the Renault Scenic Vision it said the car can be driven as a conventional electric vehicle, without using the fuel cell, on daily trips.
When there is a requirement to travel longer distances, a route planner calculates the power the fuel cell needs to supply to keep the battery charged for longer, so that there is no need to charge it on the way.
The point of using the fuel cell on long journeys is that it's quicker to top up the hydrogen tank than to charge the battery.
This way, there is no need to charge the battery until the car reaches its destination.
It added that in 2030 and beyond, once the network of hydrogen stations is large enough, it will be possible to drive up to 800 km, with the hydrogen tank able to be refilled in five minutes or less.
When the weather is cold, the hydrogen range-extender also keeps the battery at the right temperate for optimal operation and extra range.
The company said the concept car was its response to the need to develop greener vehicles that are not only zero-emission in operation but also also have a much lower carbon footprint than current vehicles.
It said it is aiming for a 75% smaller carbon footprint for the Renault Scenic Vision compared with a conventional electric vehicle and that 70% of its materials are recycled and 95% are recyclable.