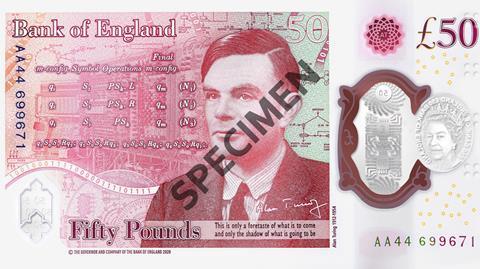 Retailers are being urged to ensure that they are prepared for the introduction of the new polymer £50 on Wednesday 23 June, and are aware of its security features.
The polymer £50 note contains advanced security features, including:
hologram – the word changes between 'Fifty' and 'Pounds' when the note is tilted;
see-through window – look at the metallic image over the main window and check that the foil is gold and green on the front of the note and silver on the back;
ultraviolet number – under ultraviolet light, the number '50' appears in bright red and green, against a duller background.
The withdrawal date of the paper £50 note will be announced once the new polymer £50 note has been issued.
ACS chief executive James Lowman said: "We are encouraging retailers to familiarise themselves and their colleagues with the new security features of the polymer £50 note ahead of its issue next week.
"Retailers should also seek to contact the manufacturer or supplier of their cash handling machines to discuss what adaptations will be required for issuance of the new £50 note."