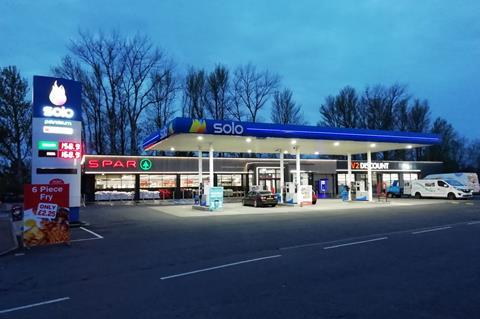 Independent retailers Crawford and Richard Henderson, who run a number of Spar stores in Northern Ireland and Scotland, have reopened their Spar Milltown Road store and forecourt in Ballymoney after a £1.5m investment saw the creation of a variety of new part and full time positions.
Almost doubling in size, the 5,500sq ft store offers an extended range of fresh, locally sourced products, a much larger grocery range plus a new deli, serving a range of salads, wraps and sandwiches, and a hot food counter with options for breakfast and lunch.
The forecourt also received a makeover with six new Solo branded pumps, all with pay at the pump facilities, and a new drive-through car wash is due to open soon. The store now provides more than 100 car parking
Richard Henderson commented: "We have been trading with Spar for the past 30 years, but neighbourhood retailing has never been more important than in the past few years. Our shoppers are looking for value, local products, trusted faces on the shop floor and a wide variety of everyday essentials so they don't have to go out of town.
"The demand for food-to-go has also grown in the past few years, and we have extended our offering to include a wider variety of great quality hot food, salads, sandwiches and wraps plus three new Barista Bar coffee machines to cater for the busy passing trade, with a seating area for those who'd like to take five minutes peace with a hot drink."
The site's V2 discount store, adjoined to the Spar, has also had a renovation with a larger store now offering an bigger range of products. The offers on site include the Bottle Stop off licence, the Mao Chinese takeway and Gareth's chip shop.
Paddy Doody, sales and marketing director at Henderson Group which owns Spar in Northern Ireland, added: "Richard and Crawford are highly experienced retailers, bringing exactly what their shoppers want to their complex in Ballymoney. Their new-look Spar is of the highest spec, and includes two new self-scan checkouts to bring even more efficiency to the customer shopping experience as well as a variety of locally sourced fresh and ambient products for shoppers to top up throughout the week."
Crawford added: "We also have a defibrillator which is installed outside the store, available 24/7 should it be needed. We fundraised with our shoppers to install it, so it is owned by the whole community."
Spar Milltown Road is open 4am – midnight weekdays and 5am – midnight at the weekend.