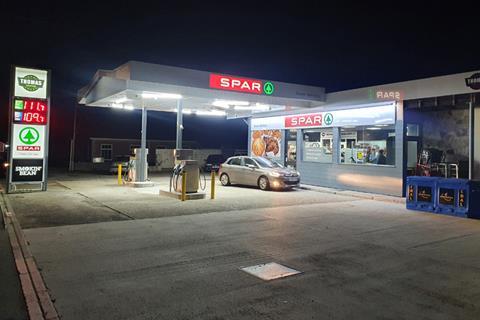 A family-owned forecourt business in Cornwall has partnered with Appleby Westward, the regional distribution company for Spar stores in the south west, to help develop the business.
"We had been with Premier for 30 years and were due to open as a Premier Express," said Mark Thomas, who runs the Dover Service Station business at Connor Downs near Hayle. "But we were making a big investment in the whole site and felt we needed a new partner to take the business forward.
"We contacted all the main symbol groups, but it was the enthusiasm and commitment of the Spar team that really clinched it for us. Appleby Westward came up with a great deal and we are delighted we made the move."
Mark's parents Roger and Sue bought the Dover Service Station and Family Choice forecourt shop in 1992 from the bank, having previously owned a forecourt site in nearby Fraddam for more than 40 years. The business, named because it was originally owned by a man from Dover, had been closed for eight years.
When they bought Dover Service Station, they also built a vehicle workshop onsite which they branded Thomas Auto Tec, Cornwall's premium motorhome and vehicle servicing centre.
Since the redevelopment of the site this summer, Mark and his wife Nina have taken over the running of the business from his parents.
The site was shut for 10 weeks while the store was gutted and the forecourt redeveloped. "Our customers love what we have done and we have had nothing but positive feedback from the local community," said Mark. "The Connor Downs Residents Association put a message out saying we had done the village proud and urging people to support their new village store. The support and kind words we have received have been overwhelming."