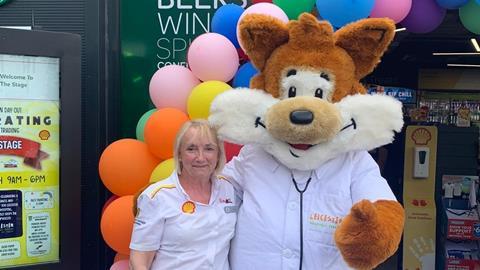 The current holder of the Forecourt Trader of the Year Award, The Stage at Wigston in Leicester, finally had its official launch on Friday July 9.
The site was opened by father and son Peter and Joe Hockenhull in the middle of the pandemic last summer, when the city had been placed under lockdown, and it has only now been able to celebrate with its customers.
Managing director Joe Hockenhull commented: "We've had launch days previously and I'd say that nearly every time they've never lived up to our expectations or what we envisaged. However, this time the result far surpassed what we'd hoped for with a huge turnout of people both from within the local area and others from throughout the network that we'd invited.
"All-in-all on the day we raised £1,266 for our chosen charity of the year, Leicester Children's Hospital."
There was a Grand Prize Raffle with prizes including a BMX, Snowboard, Electric Guitar, Skateboard, five separate hampers, car and phone accessories and a weekend away in the Peak District donated by TSG (Tokheim). Joe commented: "We ran the raffle from two weeks prior and began the draw at 10am on the launch day with a live stream on Instagram. This was a huge success."
Local schools finished for the summer holidays that Friday so there was also a balloon artist for the kids as well as the Leicester Children's Hospital mascot Dr Fox in attendance.
Joe added: "Richard Cockerton of Monster Energy came down to support in their Monster Reign truck blasting out music which gave a great atmosphere for customers."
Other activities included:
Lucky Pump – a customer awarded £30 worth of free fuel each hour between 9am – 5pm (pump number drawn from hat);
Wheel of Fortune – one of the longest serving members of the team Sue engaged with all the customers to donate £1 per spin with a guaranteed prize depending what colour they landed on;
In-store offers were in place all day consisting of Freshly Chopped any meal for £5 day and half price Insomnia Coffee;
Tetrosyl had a stand set up outside offering free top ups of screen wash and offering expertise for customers on all car-related things.
Joe said: "The weather held out which really helped the cause and having so many old friends and new from throughout the industry really added to the day. I'd like to give special thank to the following suppliers that were hugely involved on the day: Monster Energy, DSL, TSG, Freshly Chopped, Insomnia, Capital, Gadget, BJ Toys, Blakemore, Tetrosyl, Shell UK, IBreath, Imperial Tobacco, Lockett and Co, OPAL Products, Red Bull, Country Choice, Chicago Town, Actiph, VITHIT, EDGE and Godiva Flapjacks."
When The Stage won the top accolade at the Forecourt Trader of the Year Awards in January, Forecourt Trader editor Merril Boulton commented: "With its huge pear-shaped, solar panel-covered canopy, spacious forecourt and 300sq m building – encompassing a Spar convenience store, Insomnia barista coffee bar, seating area and 'healthy' all-day food offer from Irish brand Freshly Chopped – as well as its many 'green' attributes, The Stage promises to stand out among today's modern forecourt developments. Built during a pandemic, this circa £2m project in Wigston is now taking 'centre stage' in the community."