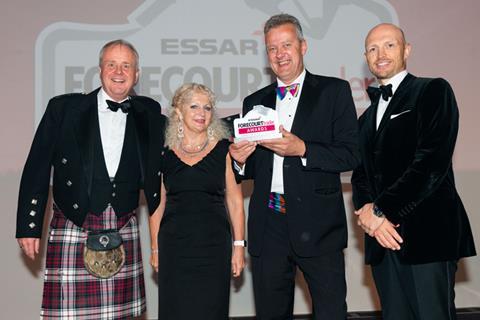 We are seeking your vote for Forecourt Trader of the Year's Special Recognition award, which is run in conjunction with principal sponsor, Booker Retail Partners, and is voted for by the readers of Forecourt Trader.
The category aims to highlight the person/people who are setting standards, blazing a trail, displaying ingenuity, success in adversity, or are in some way worthy of recognition for their achievements in the forecourt retailing sector.
Past winners include Patrick Sewell, Ken Kay, David Penny, David Charman and last year's winner, Joe Richardson.
This year there are six candidates to choose from: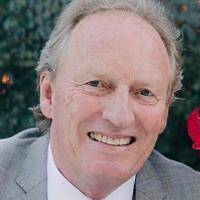 Clive Gardner, chairman, Gardner Garages
With 50 years in forecourt retailing, Clive is one of the best known and most respected dealer/retailers in the industry. He has petrol running through his veins and is still going strong in the business, and again expanding his network of sites
Since the age of 16, when Clive attended his first residential Esso Management training course, there has been no looking back.
He has worked with all the major suppliers over the years, BP, Esso, Shell, Texaco, Ultramar, Elf, National, Regent.
The Esso Tiger in your tank campaign, World Cup coin collections and Green Shield Stamps are some of Clive's earliest marketing memories as well as serving Esso Extra 5* petrol at 3s/8d per gallon, that is about 4p a litre in new money.
The family also operated a Ford and Datsun dealership in the '70s and '80s but Clive decided to focus on fuel retailing and moved away to branch out on his own.
His sites have won many awards over the years for customer service and retailing targets.
His eldest daughter, Emma, joined the business over 20 years ago, and has been group managing director working alongside Clive to continuously strive to deliver the best customer experience from their forecourts.
Ashton, his youngest son, joined four years ago and has helped Clive develop a strong management team that know how to get the best out of every retail trading environment and opportunity.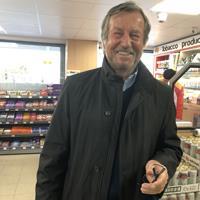 Peter Hockenhull, chairman, Hockenhull Garages
Peter's first involvement in the forecourt sector was in the 1960s as a representative for Shell Mex BP, and his job was to convince retailers to go solus – ie just Shell, BP or National Benzol – as forecourts then had a multitude of brands on one island which was impractical.
He was promoted to area sales development adviser then regional sales development advisor. Then BP decided that they wanted to experiment and see if direct management would work. Peter was asked and after a lot of resistance he agreed to give it a shot, the condition from BP being that he would have to relocate to Leicester and form a subsidiary company called Saints Service Stations.
Having proved that it worked alongside other experiments in the UK they decided to go countrywide, merging all of the subsidiaries into one. BP then asked him to take up a new role but this time relocating to Leeds. With a young family of four by this time he refused and resigned to go into business by himself.
Along the way he diversified into different industries notably taking ownership of Admiral Sportswear and running as vice chairman of Leicester City Football Club. After selling 10 sites to Euro Garages in 2006 the company contracted and Peter enjoyed semi-retirement. But after some time away and with young blood entering into the company this reinvigorated him to come back into the fire and build a cluster of sites which would be based on quality not quantity – the latest of which is the current Forecourt Trader of the Year site, The Stage in Wigston, Leicester.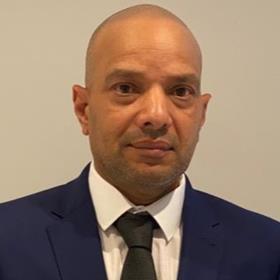 Kris Navaratnam, managing director, Krisco Services
Kris Navaratnam has owned and operated petrol stations for the past 25 years.
Kris's started in the industry when he came to the UK in the early 1990s from Sri Lanka due to the civil war, and took on an opportunity to work in a petrol station as a cashier.
In 1996 he took on his first service station as a commission operator for MRH, and in 2003 and he bought his first freehold service station in Oxford.
In the years since 2003 Kris has never looked back, and to date has bought more than 25 service stations, and operated them throughout the country.
Over the past 25 years Kris has worked with many of the major fuel suppliers, including BP, Esso and Texaco, and for the past 10 years, all his shops have been supplied by Londis.
Kris's expertise is in identifying sites with plenty of opportunity to grow and then redeveloping them to a high standard to get them to perform to their maximum potential. Most recently, Kris bought and extensively re-built Burbage Services in Wiltshire, the largest development he has completed to date. This flagship store includes Costa Coffee, F'real, Fwip, Tango Ice Blast, Hot Food, a self-service till, and recently added the local Post Office. The store reached the final of the Asian Trader Awards early in 2021.
Having sold some 15 sites in 2018 to SGN, Kris now trades at six locations and has also purchased some investments sites.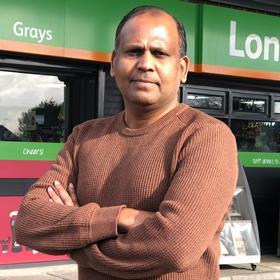 Nalliah Thayaparan, managing director, NTS Group
Having worked as a commission operator for 20 years, Nalliah Thayaparan (known as Thaya) thought he would have a go at owning a petrol station himself. So, in 2012, armed with his considerable knowledge – gained operating 12 sites for various UK leading independent forecourt companies as well as running six convenience stores – he set up NTS Retail Ltd.
A year later he had bought his first forecourt, a Texaco site in Petersfield, which turned out to be a good learning experience, and made him appreciate the potential of the forecourt convenience business, so it wasn't long before he was looking for more sites. A year later he bought his second site and in 2015 his third.
After that he acquired one or two sites a year, until 2019 when he bought five sites – three from MFG and two independent sites. But he didn't stop there and in the latest Top 50 Indies report he was listed at number 14 with 16 sites, supplied by a mix of BP, Esso, Jet and Texaco fuel brands.
Each time he has taken on a new site he has made significant improvements which have transformed the business. He knows that the forecourt brings the customers in and key elements such as parking, long opening hours, great availability of key products at competitive prices; customer service and other elements such as parcel services, makes his sites all very convenient.
During the pandemic he was keen to do his bit to help the community, offering 10% discount on fuel and shop sales for all NHS staff and UK emergency services staff. He wanted to show his appreciation for their hard work and dedication during such a difficult time.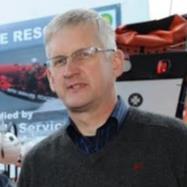 Jamie Wood, director, St Michaels Services Ltd
Jamie Wood's work career began in working with his mum and dad in their Coatsgate Cafe – a lorry park and cafe situated just north of Beattock on the side of the old A74, prior to the expansion of the motorway to three lanes. With the upgrading of the A74 to the M74, Jamie's parents sold the cafe and Jamie started work at Abington Service Station.
In 1998, Jamie purchased his first site – St Michael's Services in Dumfries – and then purchased Wigtown Road Services in Newton Stewart, and Benmar Services in Moffat in 2012, and most recently, Jamie acquired a rundown site in St John's Town, Dalry in 2017, a site that he has totally redeveloped to make it a valuable community hub, as well as a quality destination for the many tourists and visitors to the area.
The business has changed fuel suppliers a few times and had several suppliers for the stores, and latterly all Jamie's sites have been partnered with BP and Londis.
At Jamie's site in Moffat, which recently incorporated the local Post Office, which was due to close, they have very strong links with the local community. The locally based Nith In-shore Life Boat is supported by Jamie with free fuel for their large rescue craft fleet, free of charge, from St Michael's Services, and the business has supported other local charities.
Jamie has invested heavily in providing all four sites with overnight payment terminals, which were very handy during the Covid pandemic last year when other businesses were closing early, so they could still support customers 24/7.
Jamie's biggest project to date is the one that's currently in planning – a full KDRB of his Dumfries site which will see a new state of the art service station.
Jamie's ethos is that it's vitally important to "give back" to the community in as many ways as he can. The business regularly posts on their Facebook pages, and interacts with the community by providing free advertising space on their in-store media screens.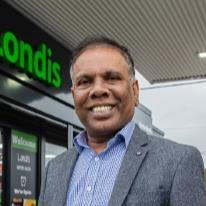 Visvanathan Yoganathan, director, J, P & S Services Ltd
Visvanathan Yoganathan, known as 'Yogan', first began working full time in the retail sector at the age of 18 in Colombo, the capital city of Sri Lanka. Despite studying for and aspiring to be a doctor, the circumstances at the time made this endeavour very difficult for him. He, therefore, moved with full determination into the world of retail. Energetic, optimistic and disciplined, Yogan and his cousin ran a wholesale convenience store for a few years but political instability within the country had led Yogan to move to the UK.
On arrival in the UK in 1980s, Yogan started working night shifts at a bakery in London. A couple of years later he then moved to the world of petrol stations as an opportunity arose. He worked, first, as a forecourt cleaner before becoming a sales assistant and then, in the years to come, as a manager and then area manager. It was in 1993 that he acquired his first forecourt.
With hard work, patience and care, Yogan has grown his business step by step from through the years. In 1999 he purchased his first freehold forecourt in Andover and over the years he has grown his portfolio to include a number of directly owned and operated forecourts and one convenience store around London and the South East.
Delivering a 'quality' service to customers is prioritised and Yogan has demonstrated this through continued reinvestment into the business. Numerous redevelopment projects that have taken place across his portfolio of businesses.
Yogan truly loves his work and firmly believes that none of this would have been possible without the support of his loving family, in particular his wife, Jeya, and all of the employees within the JP&S Services family business. As someone that believes in giving to those in need, from a young age Yogan has contributed to charitable causes, both, in the UK and abroad. This is something that he is grateful to be able to do more of as his business has developed over the years.
In the last 18 months, Yogan's sons, Priyanth and Sukanth, have joined the family business after spending a number of years working in accounting and finance in London.