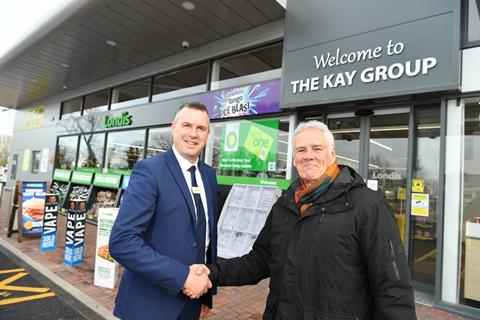 The Kay Group has agreed a partnership with Booker Retail Partners, which sees all 23 of the group's forecourt convenience stores joining Londis.
The network covers the Midlands, North Wales and Northern England, where alongside the Londis brand, the stores will feature Booker's exclusive own-label ranges such as Jack's and Euro Shopper.
The news follows a six-month trial, in competition with two other symbol groups, with BRP ultimately winning a five-year supply contract for the whole Kay Group estate.
The rollout to Londis is now completed with all stores having had a full store review and relaunch which has seen the introduction of more products, 'great value everyday' prices, 'deep cut' promotions and additional services such as food to go, coffee and a range of slush drinks, along with a wider range of both fresh and frozen foods.
Richard Cox, managing director of The Kay Group (UK) Ltd, said: "It has been a great experience working with Londis on this project. With the changes within the Londis brand structure, and through our test sites with the brand refresh, product range, margin, availability, along with a delivery structure to meet our sites needs through 24hr trading, we are delighted to be back with Londis and the team. We are confident this move allows us to create state-of-the-art forecourts in high traffic transient sites that are completely in-line with current customer needs."
Stewart Fenn, sales director – Booker Retail Partners, said: "We are absolutely delighted to be working with The Kay Group. It is a real privilege to be serving such a prestigious and well respected retail group. The conversions to Londis have gone extremely well and we are seeing the fantastic results the stores are now delivering in terms of growing their business with increased sales, footfall, and profits. It has been a really exciting time and I'm now looking forward to building on this success to deliver even more for Ken, Richard and their team."
Richard Cox, managing director of The Kay Group (UK) Ltd, said: "It has been a great experience working with Londis on this project. With the changes within the Londis brand structure, and through our test sites with the brand refresh, product range, margin, availability, along with a delivery structure to meet our sites needs through 24hr trading, we are delighted to be back with Londis and the team. We are confident this move allows us to create state-of-the-art forecourts in high traffic transient sites that are completely in-line with current customer needs."